The Canadian economy added 40,000 net new jobs in August, a sharp contrast to the meager growth seen in July. The unemployment rate remained unchanged at 5.5%. The Canadian labor market is slowing and struggling to keep pace with population growth in the country.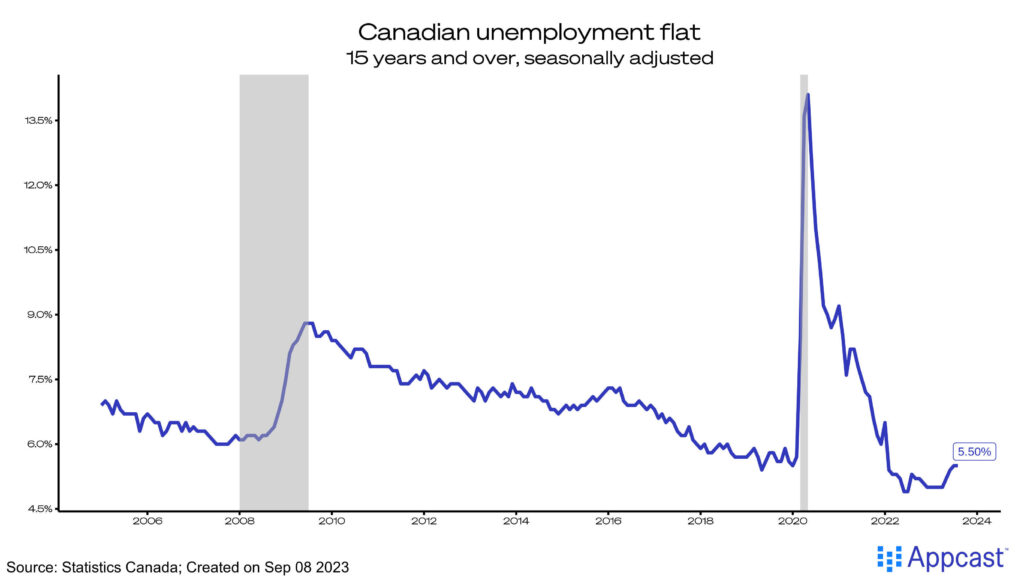 Liberal immigration policies have contributed to strong population growth in Canada. The stalling employment rate, now at 84.6%, shows that the labor market growth has not kept up with population inflows.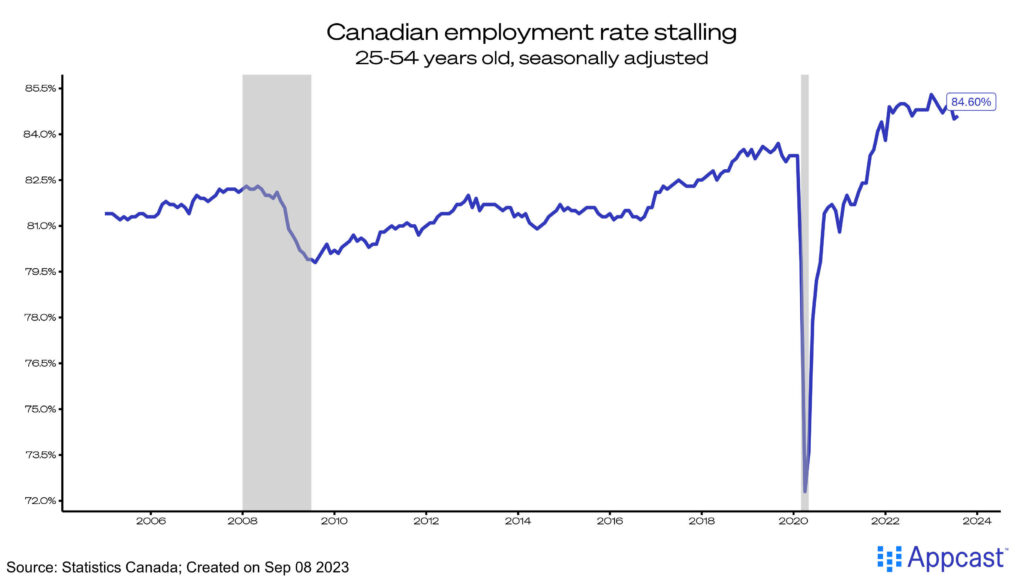 Sector trends 
The increase in employment was driven by growth in key sectors, including strong growth in the professional and technical services industry (+52,000). This is the largest increase for the sector since December 2022 – white-collar industries have struggled this year. Finance, insurance, real estate, and leasing lost 16,000 jobs in August, for example.
The construction sector saw a reversal in fortunes in August, up by 34,000, nearly correcting for the 45,000-job loss in July.
Gains were not broad-based though: The manufacturing sector lost 30,000 jobs and agriculture struggled as well, losing 11,000 jobs last month.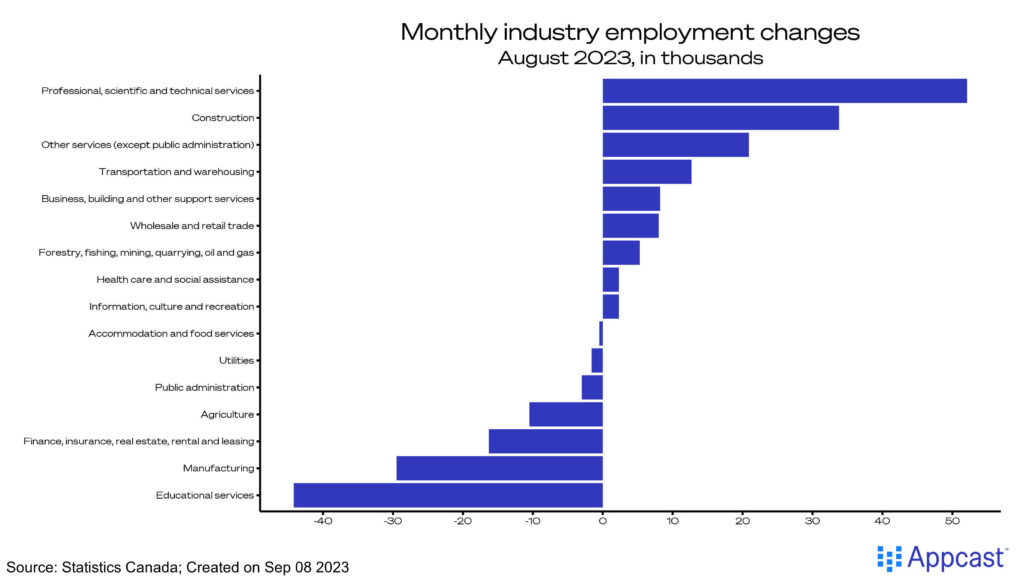 Labor force trends 
The labor market continues its rocky trend as employment growth struggles to keep pace with robust population growth. In August, the 15+ aged population increased by 105,000 new residents, compared to the 40,000 new jobs.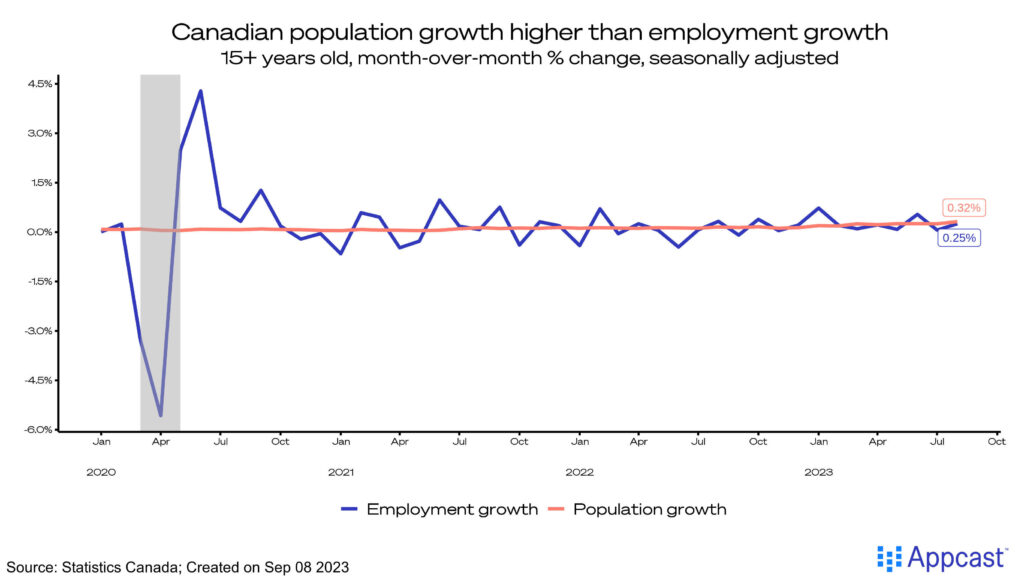 Digging into the details, much of the job growth went to the prime-age workforce (25-54 years) adding 53,900 new jobs, with a noticeable decrease of 45,200 jobs for the older workforce (55-64 years old).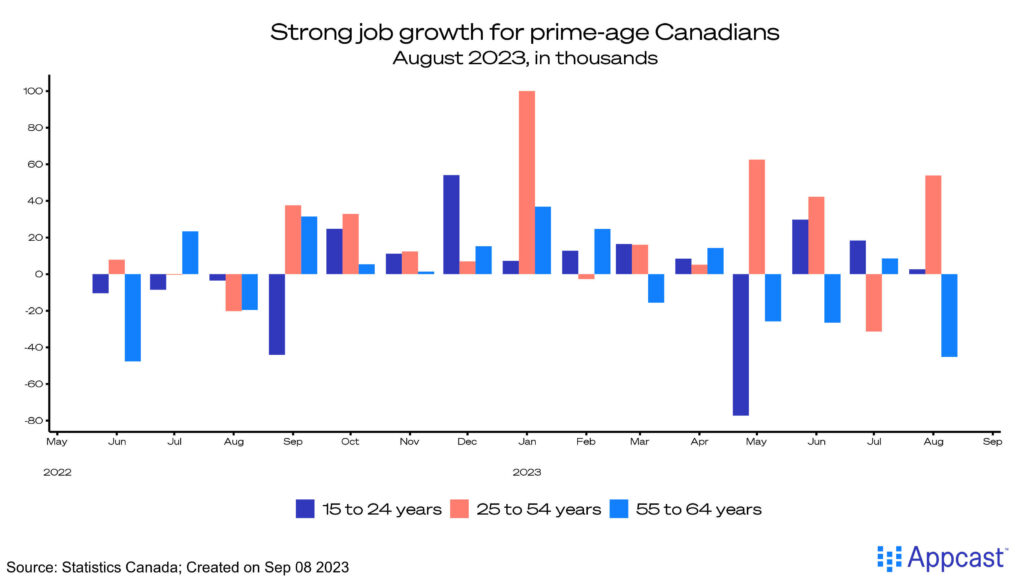 For unemployed Canadians, the labor market has become increasingly more competitive. Our colleague, Julius Probst, published a recent article on the "Poaching Economy" detailing how a majority of hiring in the U.S. is due to poaching between firms.
In Canada, the proportion of those who were unemployed month-to-month has been steadily rising, from an average of 53.4% to 57.8% last month. This could potentially indicate that unemployed workers are experiencing a tougher job market.
The "job-changing rate" is the percentage of those employed month-to-month who then switched to a new job. This proportion has been steadily slipping, from a peak of 0.8% in January 2022, down to 0.4% in August. This further indicates that the labor market is swiftly cooling in Canada – as those employed feel less confident in finding a new job.
What does this mean for recruiters?
Recruiters are enjoying a large swath of new potential employees with the impressive population growth, but the employment gains are just not keeping up. The labor market is cooling in Canada and recruiters are no longer struggling with hot competition as fewer employed workers seek new positions, and those unemployed are facing a tougher hiring landscape.