Canada's liberal immigration policies are a success story. The country's population recently surpassed that of California and has recently hit 40 million. As a result, Canada's economy has been growing more strongly than most other OECD countries in recent decades. The biggest constraint for the future is the housing market, which is an obstacle to future growth and more immigration.
Canada's population is growing strongly thanks to immigration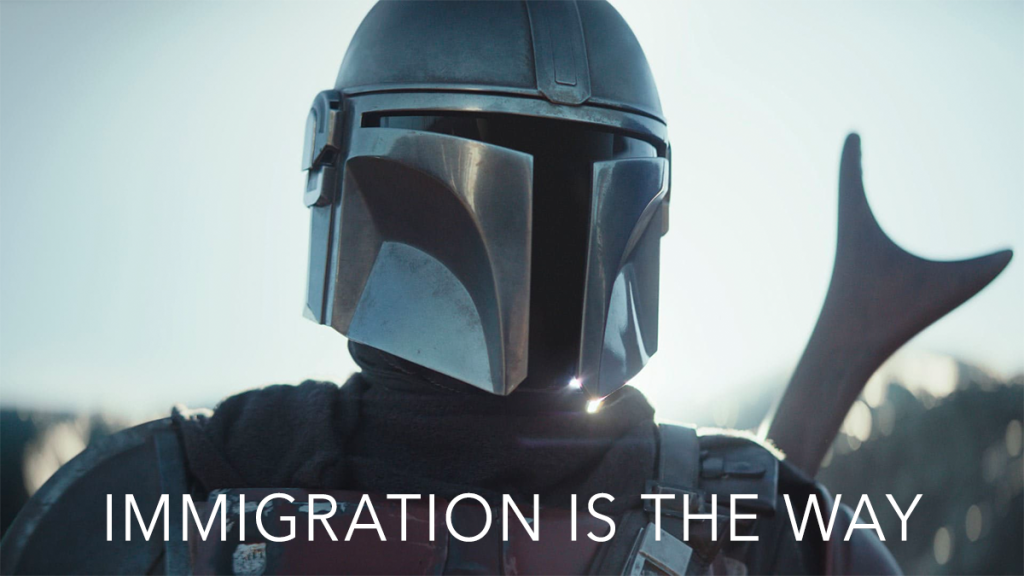 Canada's population has been surging in recent years thanks to immigration. For the very first time in recent history, the country's population is now exceeding that of California and has recently passed 40 million, according to Canada's population clock model, which models population changes in real-time.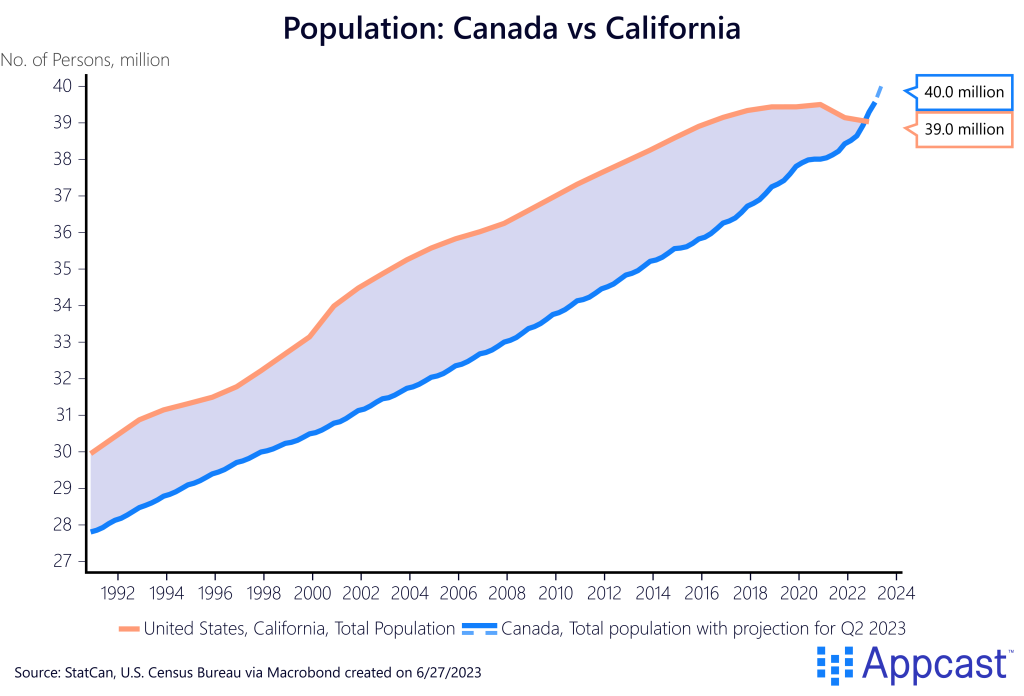 The total increase in the Canadian population in 2022 was about 1.1 million, an increase of 2.7%, which led to the highest annual population growth since 1957. And about 95% of that is thanks to migration.
Net migration to Canada surpassed 400,000 on an annual basis in the fall of 2022, corresponding to an annual inflow of more than 1% of the population. More importantly, the net inflow of non-permanent residents surged to more than 600,000 last year, doubling from about 300,000 just before the pandemic.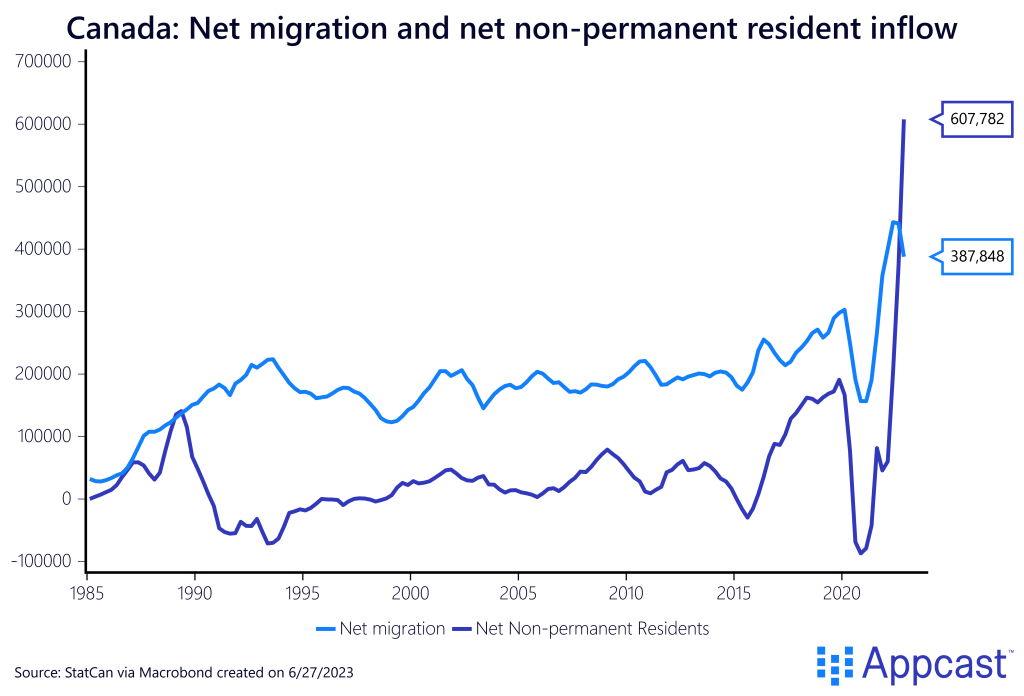 Canada bet on a liberal migration system and it paid off
This type of growth may seem unbelievable, but Canada's uniquely ambitious immigration policies make it possible. Last year, Canada took a bet on immigration, and it is certainly paying off. In November 2022, announced that the country hoped to welcome almost 1.5 million immigrants from 2023 to 2025. These ambitious targets aim to rebalance the labor market as the Canadian population ages, something this country is doing better than any other. Canada's commitment to migration has allowed them to achieve the fastest population growth among G7 economies for several years in a row now.
But the 607,782 non-permanent residents really helped bolster the growth this year. A temporary resident can be a temporary visa holder, international student, and temporary foreign worker. This increase in temporary residents of course helps with Canada's labor market goals.
The labor market is not the only beneficiary: many of these non-permanent citizens are escaping war in their home country of Ukraine. Canada began a new program following the invasion of Ukraine, in which these refugees and their families could apply to get a free, three-year visitor visa for them and their families. From March 27, 2022, to June 3, 2023, the Canadian government received over a million applications to be a part of the program. In the same period, 158,677 Ukrainians have found a temporary home in Canada.
The Canadian government has been deliberate in its immigration policy, dedicated to strengthening the labor market and welcome fleeing refugees. Bolstering both immigration targets and the pace at which the government processes applications has allowed for this commitment to pay off, but constraints exist beyond small targets and slow bureaucracy.
The housing market is the biggest constraint for more migration and economic growth
Most advanced economies will see their population stagnate in the coming years because of low birth rates have plummeted around the world. This is especially true in Europe, which is already experiencing rapidly aging societies and a shrinking workforce. Not only will this cause labor shortages, but it will also be a burden for government budgets and pension systems.
Canada's record-high migration in recent years means that the country is much better placed to face these problems as the country's population and therefore its economy will continue to grow.
However, the country also faces some barriers that will make it difficult for the country to continue its current growth path. One of the biggest constraints is probably the housing market. Compared to other advanced economies, Canada is experiencing one of the most overvalued housing markets.
The country's population increased by about 40% since 1990. And inflation-adjusted wages went up by almost the same amount since then. Real house prices, on the other hand, more than tripled before the more recent decline, and therefore have outpaced earnings by a substantial amount. This is also the reason why Canada has one of the highest mortgage debt-to-GDP ratios.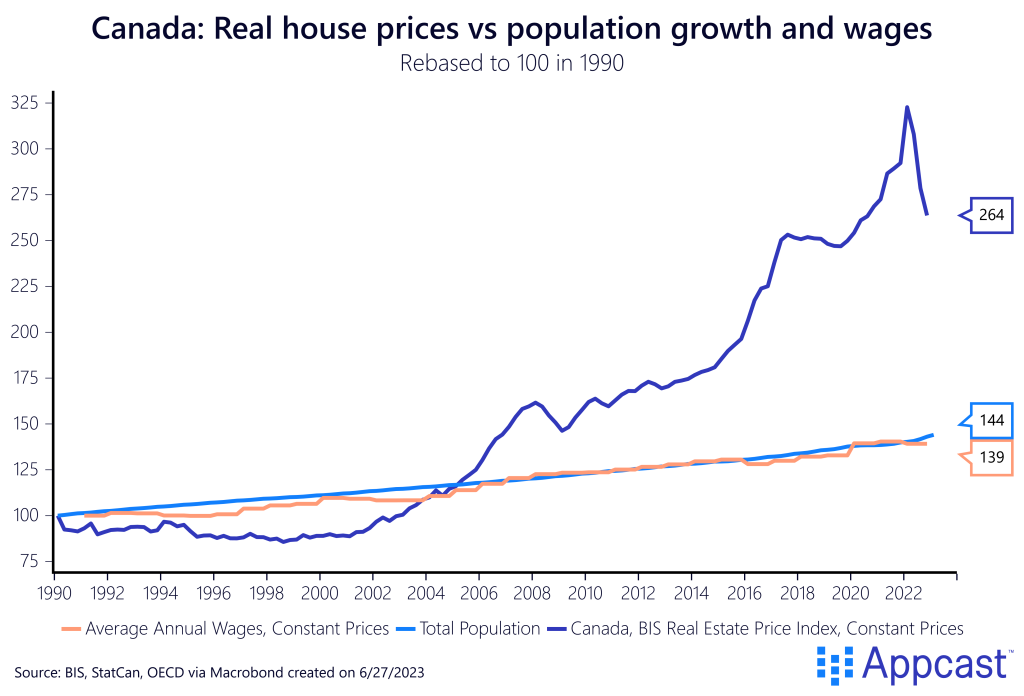 Housing affordability has been a problem in major metropolitan areas like Toronto for years. And the problem is to the greatest extent self-inflicted. It is not like Canada is lacking space, but rather that zoning laws have been making it very hard to create additional housing units in the areas where they are needed: vast areas of land around Toronto are zoned exclusively for single-detached or semi-detached homes.
The Toronto metropolitan area is expected to have close to 7 million inhabitants. Being Canada's most dynamic city and an important global finance and tech hub, Toronto could easily become one of North America's largest metropolitan areas if zoning laws were less restrictive. The Texan cities Austin and Houston are an example of how more liberal housing laws can massively boost the local population and economic growth.
Similar to the U.K., Canada has recently seen its living standards fallen behind the US and some Western European economies in terms of per capita income.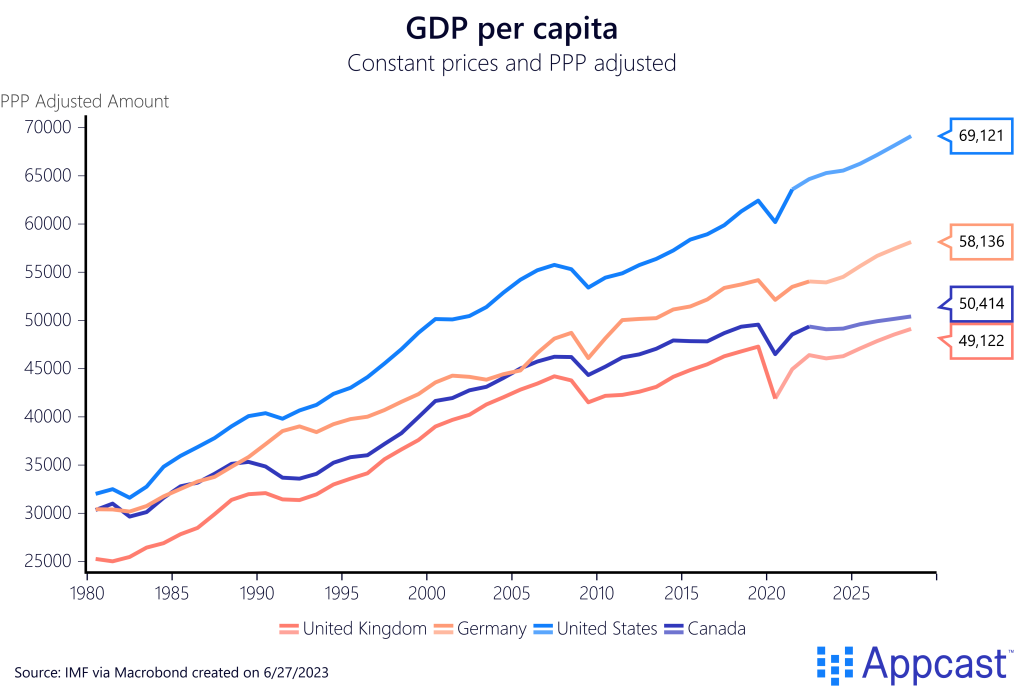 It is no coincidence that the U.K. and Canada are two countries that have some of the highest housing prices in the Western world while also experiencing a severe slowdown in labor productivity. Excessive house prices are preventing workers to move to high-productivity metro areas and therefore represent an obstacle to a well-functioning economy and labor market.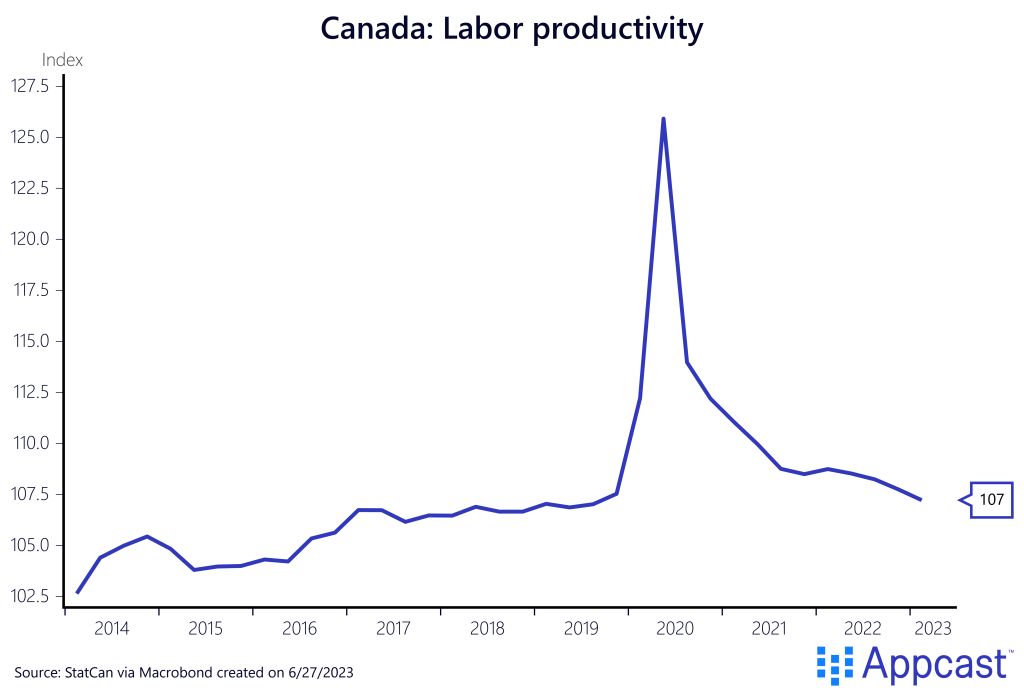 Conclusion
Thanks to Canada's liberal immigration policies, the country experienced a massive population inflow of more than one million people in 2022. The long-run growth outlook for Canada is brighter than for most other advanced economies that are seeing rapidly aging populations. The biggest obstacle to future growth is restrictive housing policies that have driven up the value of residential real estate to extreme levels. Housing unaffordability is major obstacle for the labor market and has most likely contributed to Canada's relatively weak productivity performance in recent years.
Co-author: Liz Anderson