After a strong jobs report in June, this month's report was an unfortunate miss. Overall employment fell by a mere 6,000 jobs. Analogous to the U.S. economy, the healthcare industry remains one of the strongest in Canada, while construction appears to be suffering from increasing interest rates.
Perhaps the most concerning has been the slow uptick in the unemployment rate over the summer, with three months of growth. For most of the post-pandemic recovery, the unemployment rate has been higher for men, and now that trend has reversed (5.6% for women, 5.3% for men). A traditional recession indicator – the Sahm Rule – identifies the start of a recession as a 0.5 percentage point increase in the three-month moving average of the unemployment rate, a trend to monitor for the remainder of the year.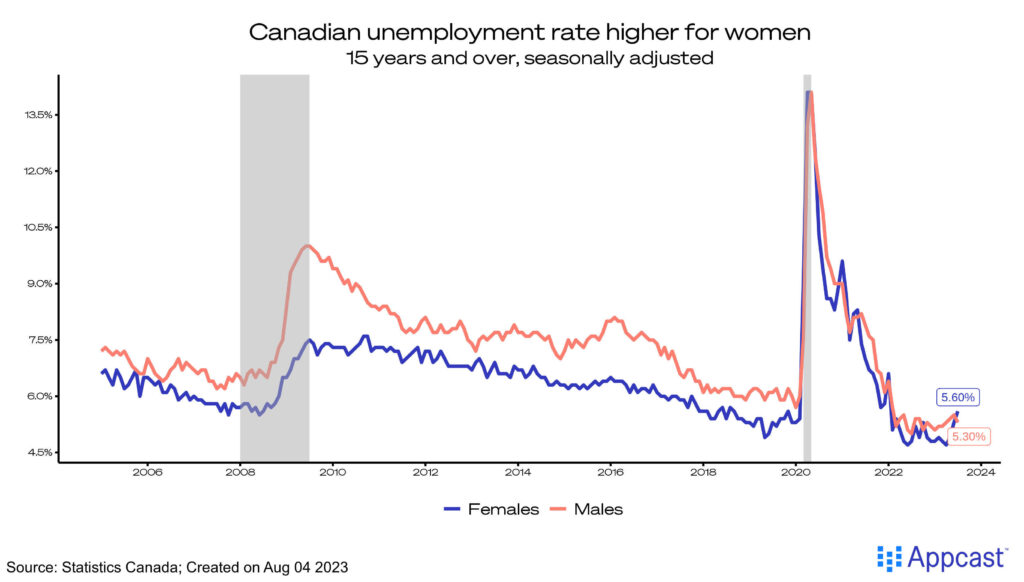 The employment rate (proportion of working-age population that is employed) has stalled after reaching a post-pandemic peak earlier this year. A 0.5 percentage point decline in July indicates a shrinking workforce (now at 84.5%). Overall, population growth has outpaced employment growth in Canada in the first six months of the year (1.4% increase in population, +0.7% increase in employment).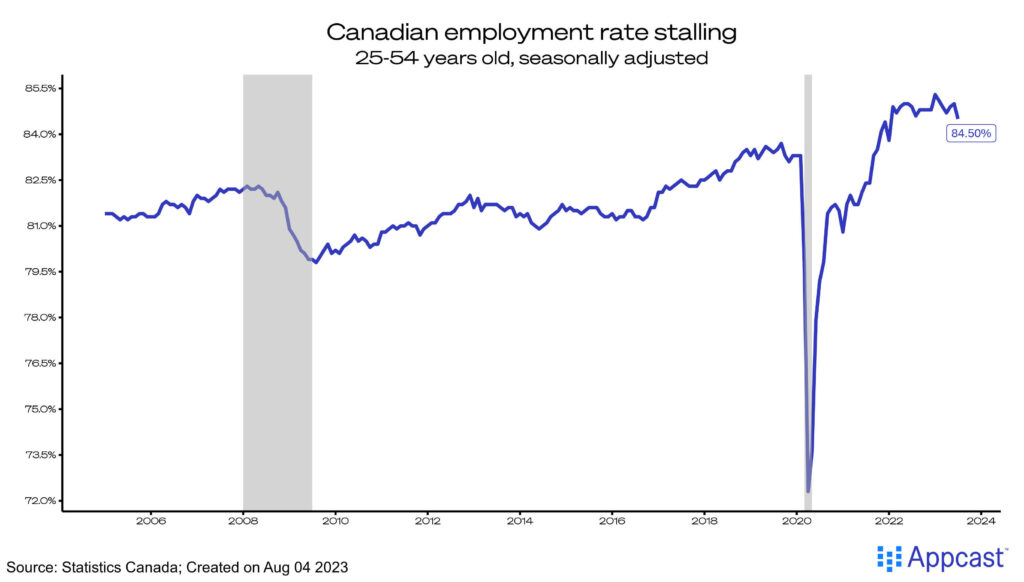 Another trend to watch for the rest of 2023 is the gap between full and part-time hiring. For most of 2022 and 2023, the tight labor market provided Canadians with more stable full-time work, while softening conditions could revert hiring preferences back to part-time.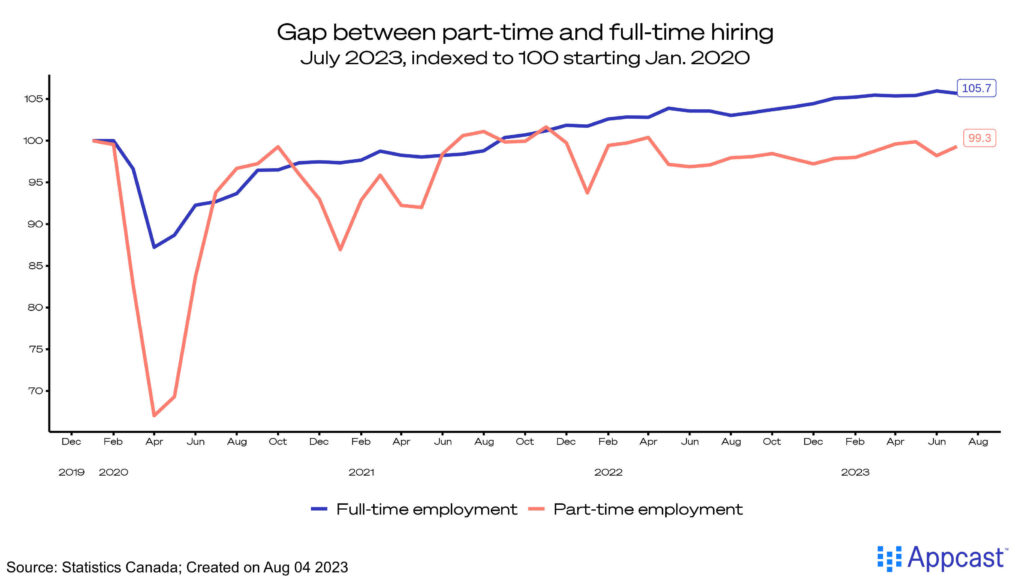 As the summer break slowly comes to an end, employment growth for younger workers continues to be strong. For younger men (15-24) this group added a strong 13,000 new jobs, while for young women it was slightly lower at 6,100 new jobs. The majority of job losses this month came from prime-age workers (25-54), a significant decline of 31,300 jobs.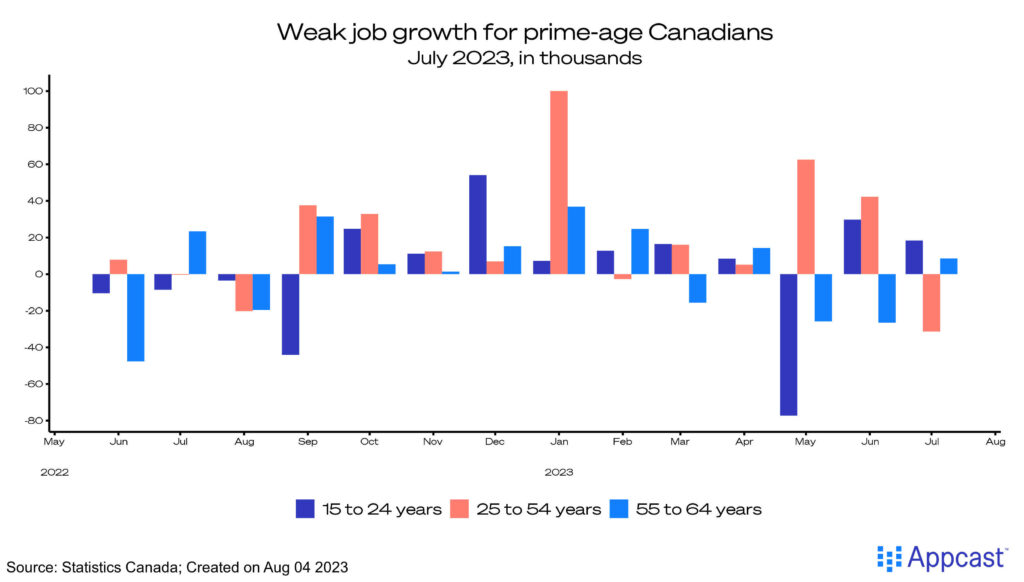 A slowing housing market has seeped into the construction industry, as the industry shed 45,000 jobs (-2.8% decline month-over-month). Public administration and transportation jobs also took a hit this month, suffering 17,000 and 14,000 job losses respectively.
On a more positive note, healthcare and education have continued to grow at a robust pace, the combined industries adding a net-new 44,000 jobs.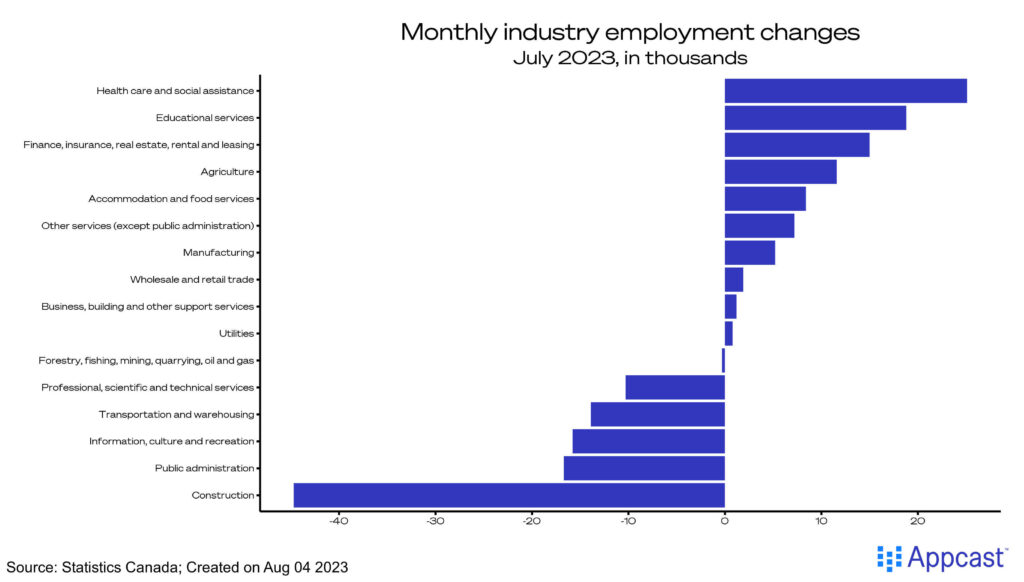 What does this mean for recruiters?
After a rosier report last month, this data may appear to be a bit startling. But fear not, the underlying Canadian labor market is still strong: Wage growth is still elevated, the underlying population is growing due to robust immigration, and the prime-age labor force is solid. Canada is still on track for a soft-landing, as employment growth is expected to continue to moderate but not to bottom out.