The Canadian labor market came back roaring in June, adding an impressive 60,000 net new jobs. Employment gains were driven by a 110,000 increase in full-time jobs, while part-time positions suffered. Wholesale and retail trade, health care, manufacturing, and transportation and warehousing all experienced strong gains. The unemployment rate ticked up slightly to 5.4%, driven by an increase in job seekers last month.
After months of seemingly slow growth, employment increases were at their highest point since January – the Canadian economy won't slow down that easily.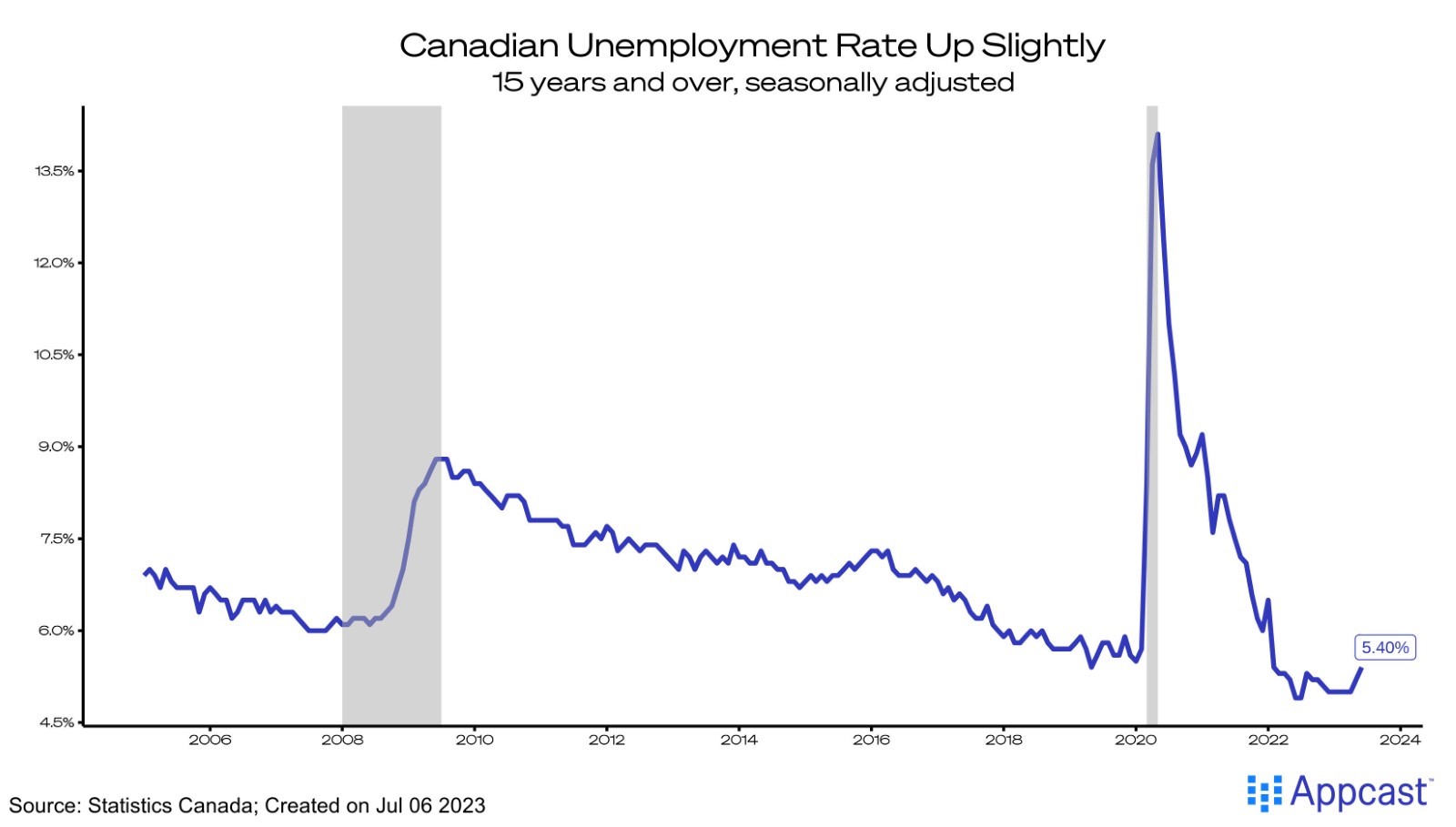 For the core-aged workers, job gains were strongest for men (+31,000), while for women it was effectively flat. For both groups, the labor force participation rates are near all-time highs (92.2% for men, and 85.4% for women).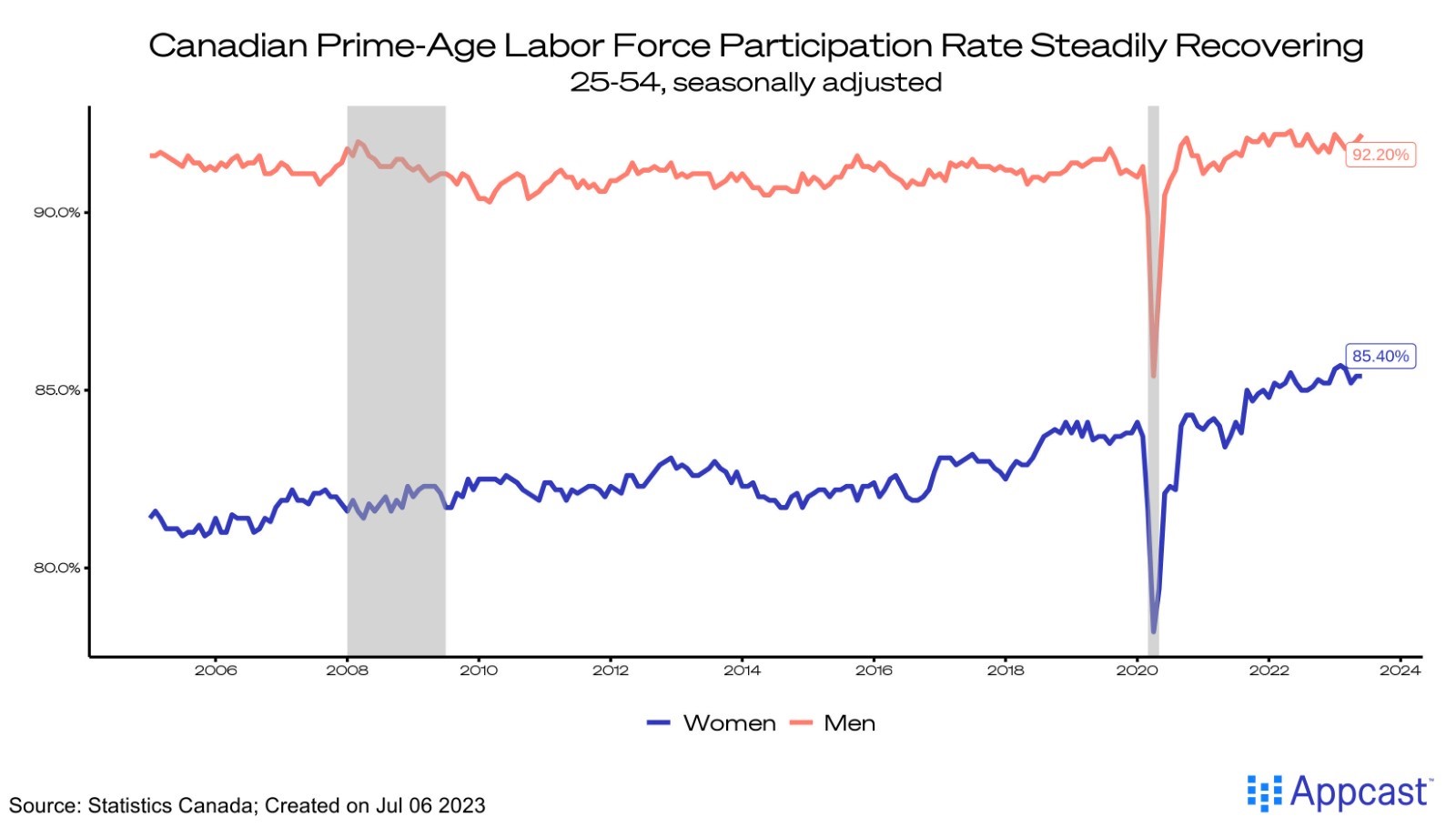 A trend we were watching last month was the tepid nature of youth employment in the country. In May, employment for workers aged 15-24 plummeted by 77,000. This month, the measure bounced back by 31,600, mostly driven by an increase in male workers in the age group. Last month, it seemed that young workers were not picking up summer jobs, but June's numbers suggest they were just slow to – we will continue watching this trend as the summer goes on.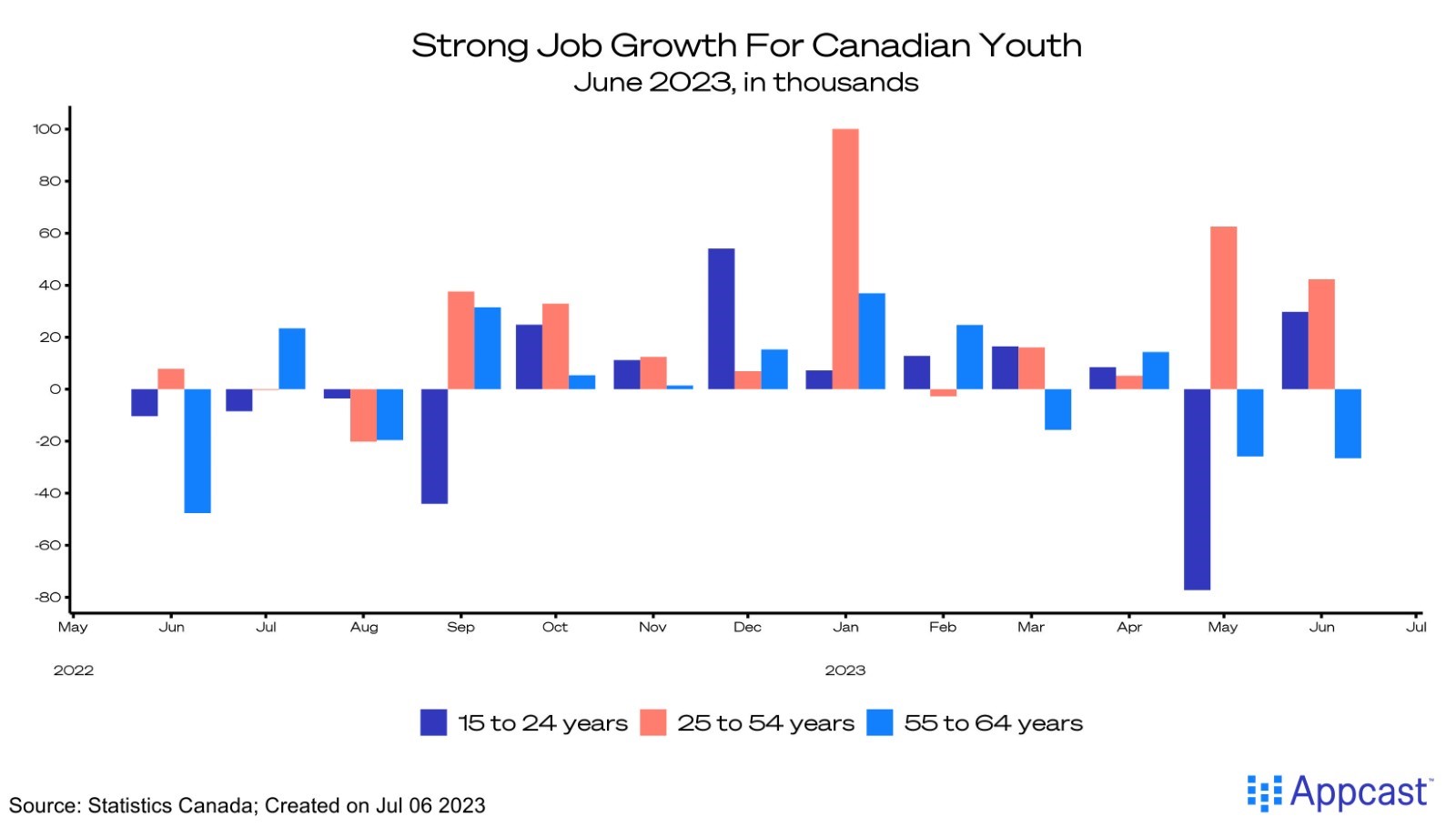 The "beating heart" of the Canadian economy continues to chug along. Wholesale and retail trade (+33,000), manufacturing (+21,000) and healthcare (+21,000) all added strong monthly job gains, indicating the core fundamentals of the labor market continue. This serves as a nice complement to May's less-than-promising industry-level changes, where across the board, major job losses were reported. A surely welcome sign!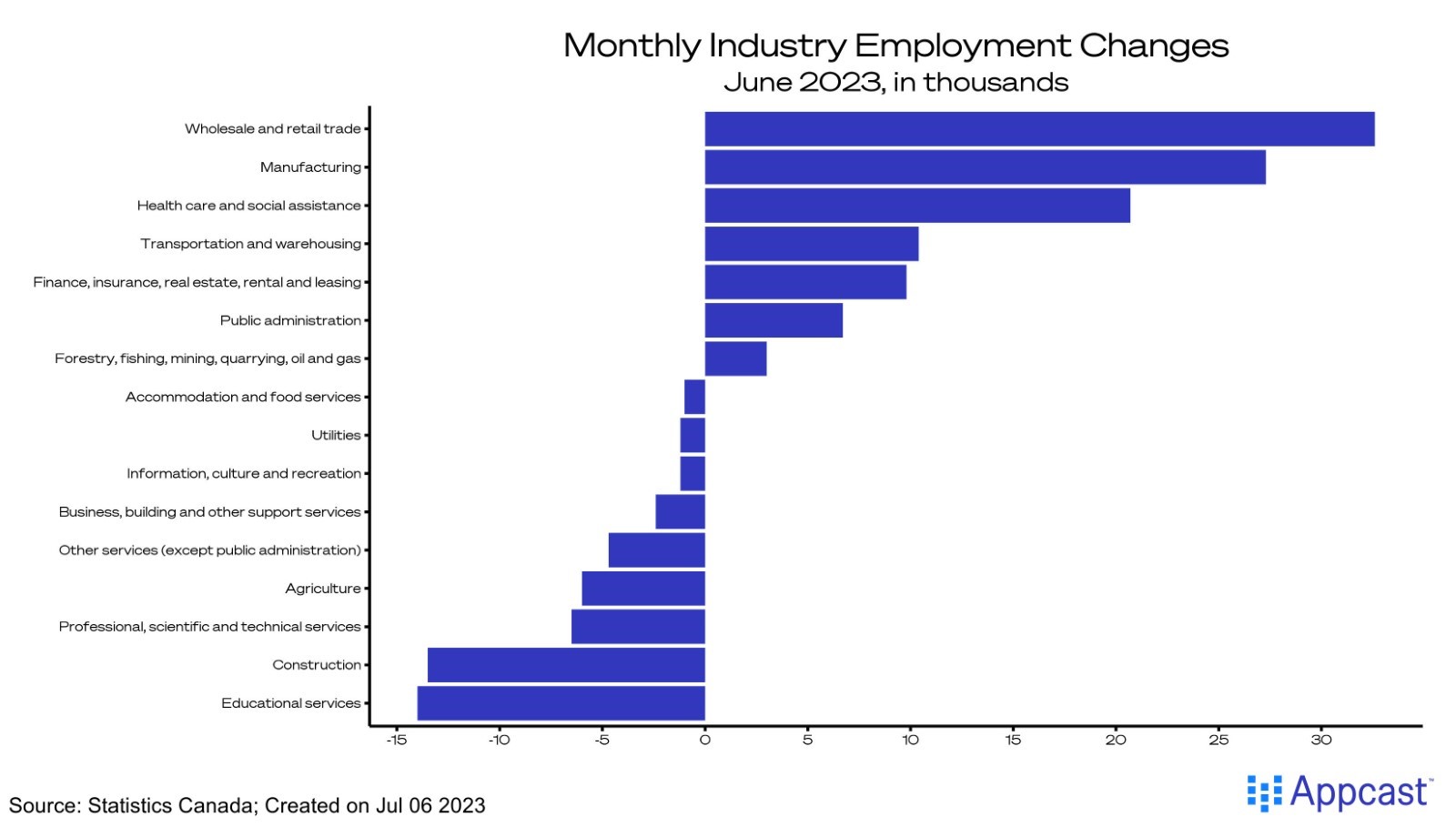 Wage growth continues its gradual decline from the peak of 2021, down to 3.47% annualized over a three-month period. This was the slowest month of growth since May of 2022.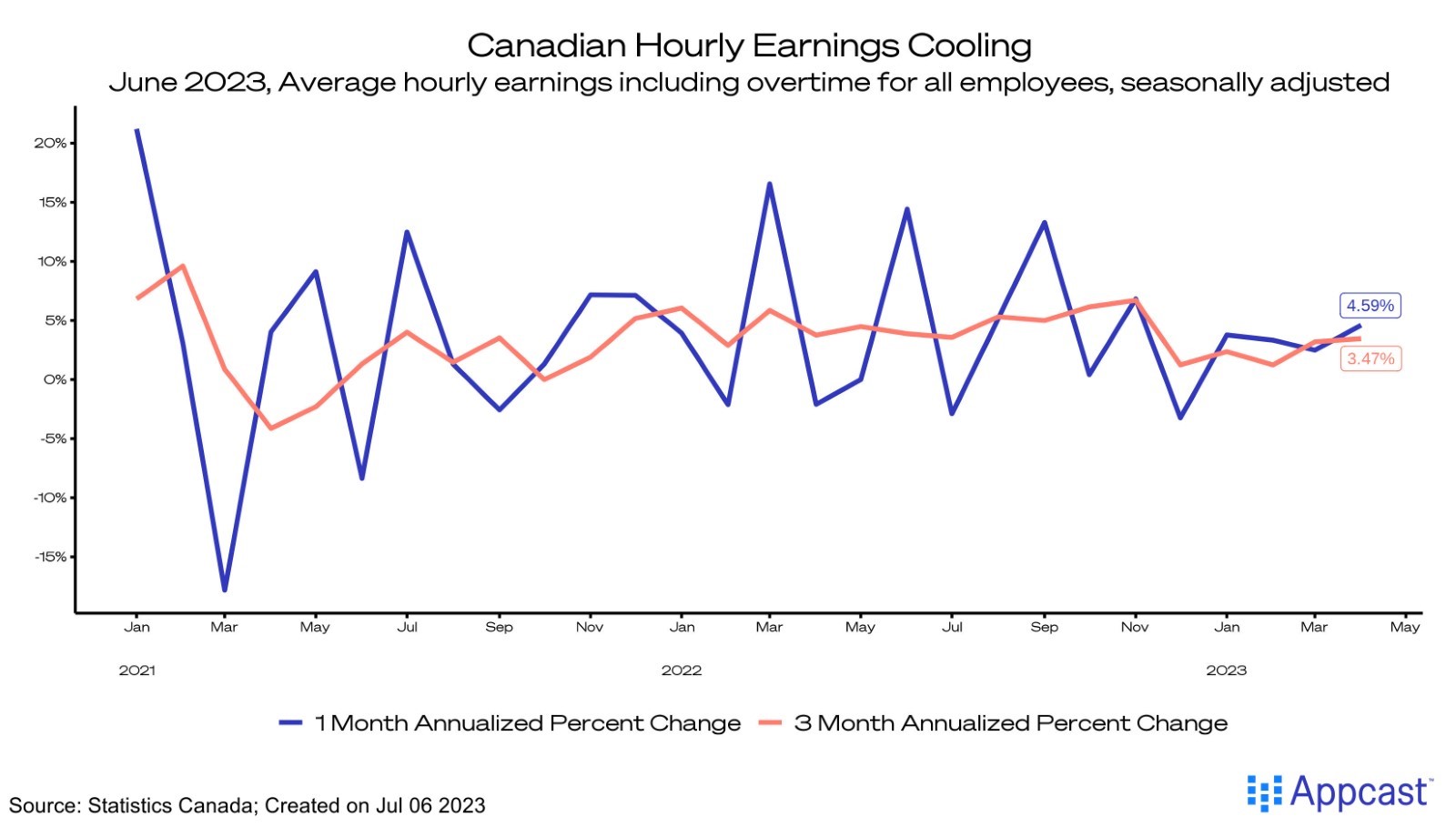 What does this mean for recruiters?
Strong employment growth for all age demographics in Canada is a promising sign for recruiters. The previous report showed a significantly slowing labor market for younger workers, however this trend was completely reversed. Industries that have typically suffered worker shortages the past three years can now fill their vacancies with students looking for a summer job.
The Bank of Canada has signaled its latest move – to possibly increase interest rates by 25 basis points for the last time on July 12th. This would end the monetary tightening cycle, and inch the economy one step closer to a soft landing.  
Co-Author: Liz Anderson