In October, the U.S. economy added 150,000 jobs. The unemployment rate rose slightly to 3.9%. Paired with revisions to last month's numbers, this report shows the labor market is cooling ever so slightly, right on cue.
However, it isn't exactly the organic cooling the Fed was looking for. The most striking part of this report was the decline in manufacturing: Labor action in the motor vehicle and parts manufacturing subsector dropped by 33,000 last month. The United Auto Workers and American auto manufacturers recently came to a deal but not before the strikes disrupted strong employment growth.
Pumping the brakes, but just to the speed limit
The growth this month was cooler than market expectations. After a surprise uptick in employment growth last month (which was revised down by 39,000 in today's report), this growth aligns more with the Federal Reserve's hopes for the labor market: Not nearly recessionary but less strong than the rip-roaring rates seen in 2021 and 2022.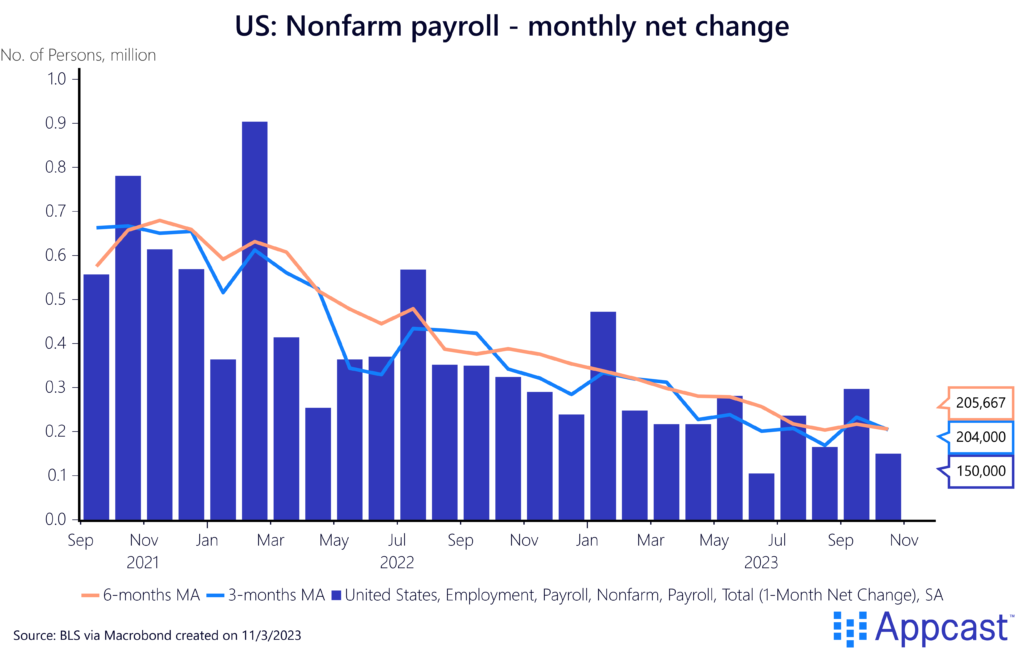 The unemployment rate ticked up ever so slightly, to 3.9%. Historically low, this rate continues a streak of under-4% employment, going on its 23rd month. The labor market remains tight, even as it cools.
Both the prime-age labor force participation rate and the employment to population ratio dipped slightly from the previous month, to 83.3% and 80.6%, respectively.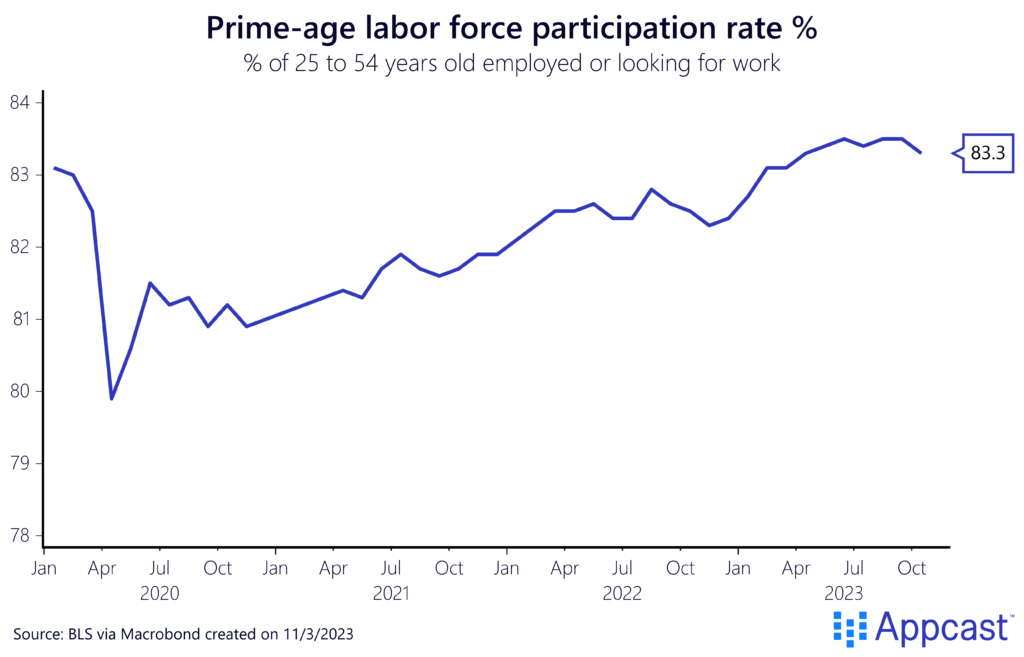 Wage growth cruises down
Wage growth – average hourly earnings (for private sector non-managers) – continues to moderate; over the last 3- and 12-months down to 3.5% and 4.4% annual rates, respectively. That said, October's monthly reading was a little hot at 4.2%, but the broader trend should assuage the Fed's fears of inflation picking back up after a period of cooling, the likes of what we saw in the summer of 2022.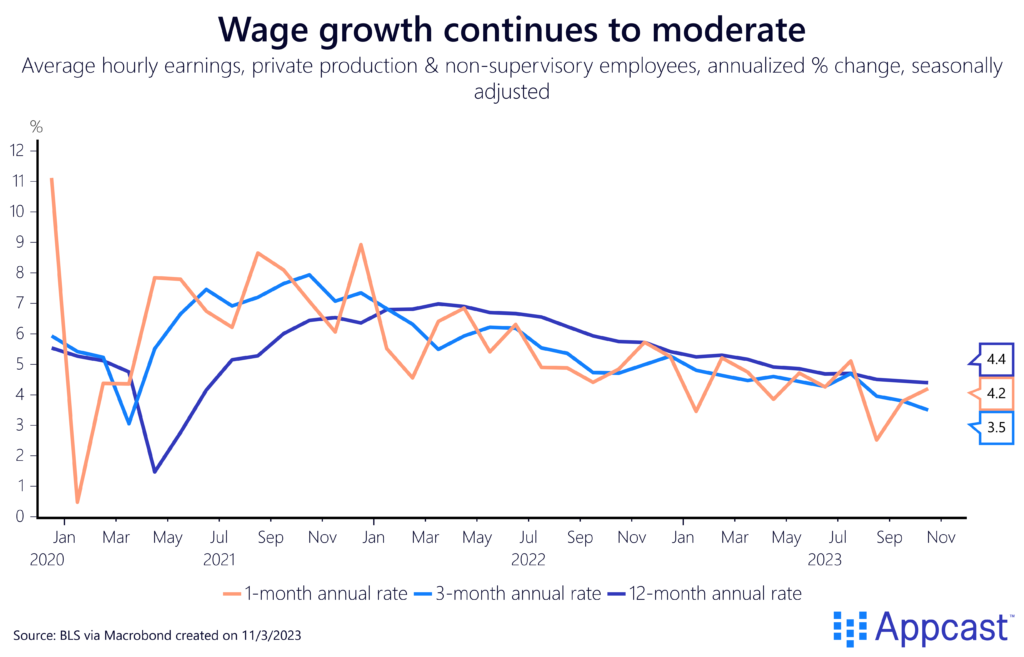 The summer (ahem, year) of strikes makes a dent
Manufacturing was weighed down by the UAW strike, which caused a decline of 33,000 jobs. Though striking workers are not counted as unemployed, the strikes against American manufacturers last month made a dent in employment growth in the sector.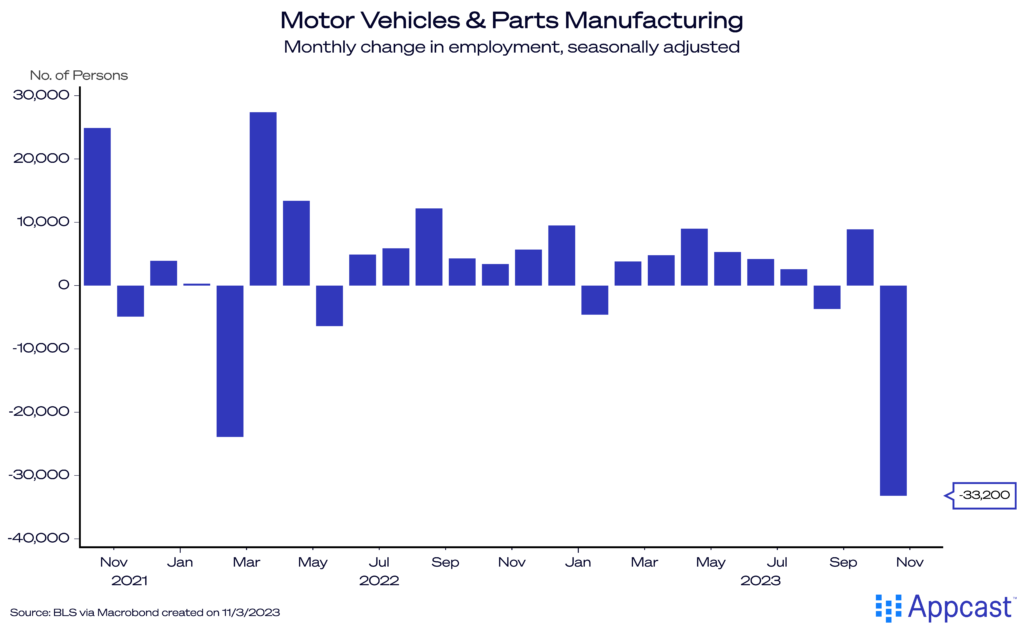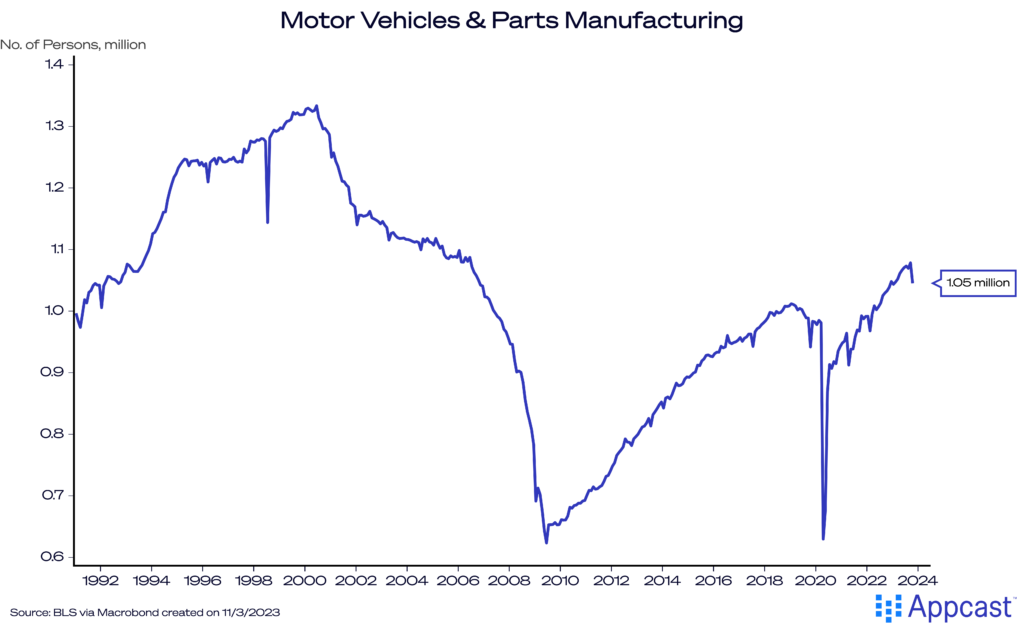 Elsewhere in the report, sector gains were as expected: Healthcare continues to grow strongly (+58,000), information (aka, technology) declined slightly (-9,000), and transportation and warehousing decreased as expected (-12,000).
Leisure and hospitality had a disappointing month after impressive gains in September. The sector added just 19,000 jobs in October, compared to 74,000 last month. The jump may have just been a blip, as employment growth has slowed in the sector all year.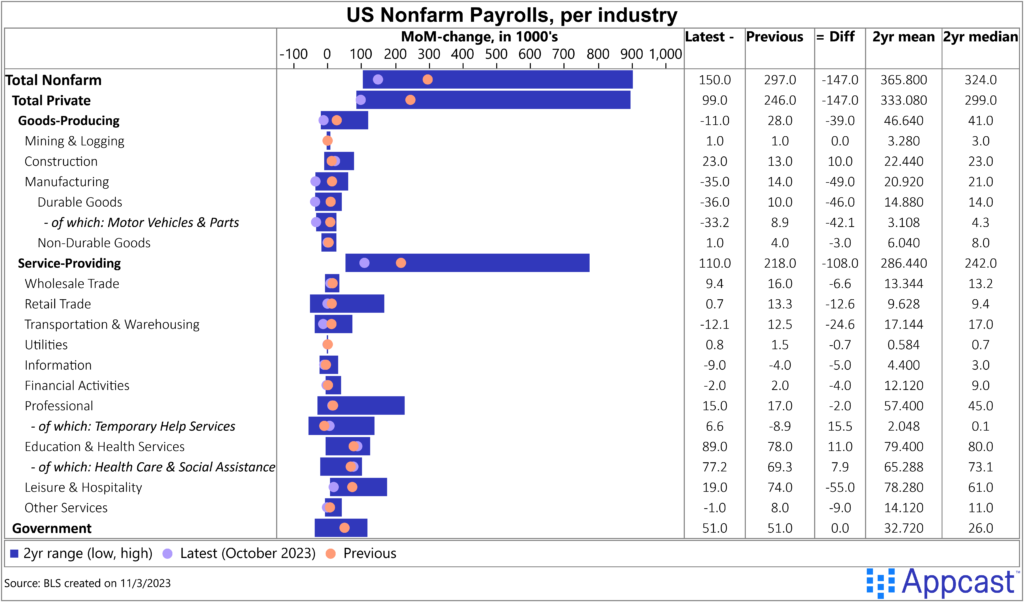 What does this mean for recruiters?
It was another positive jobs report for recruiters! Cooler labor growth may sound bad but in reality, it just means there's a sustainable pace of growth that recruiters can feel more comfortable with. The participation rate did decline, yes, but remains high – there's a larger pool of workers to recruit from. The strike activity reminds us how much disruption can be created during a time of increased worker power.