This is clearly the summer of Taylor Swift. As the artist crosses the U.S. on her historic Eras Tour, it's been nearly impossible to avoid news of her successes. The cities she's played in have bent over backwards to accommodate Swift, renaming themselves after her, dedicating benches and streets, declaring her mayor. Taylor herself, beyond playing 44 songs for nearly three and a half hours every night on stage, has announced albums, premiered music videos, and explored her musical catalog in front of millions of cheering fans (me included). She's even caused earthquakes! Miss Swift is officially inescapable. But has she rescued the U.S. from a recession?  
In June, the Federal Reserve Bank of Philadelphia mentioned Taylor Swift in its Beige Book, attributing the "strongest month for hotel revenue in Philadelphia since the onset of the pandemic" to her Eras Tour. After that, reports came flooding in heralding the singer's latest apparent triumph: saving the U.S. economy by boosting demand.
Singer, songwriter, twelve-time Grammy winner, mastermind, and… economic stimulus?
While it'd be a cool thing to add to her accolades, Taylor Swift's Eras Tour behaves more like a drop in a bucket than a flood when it comes to the impact on U.S. GDP. While Swift's team has yet to release this tour's revenue, a report from survey provider QuestionPro estimates the total economic impact will be close to $5 billion, including ticket sales, travel, outfits, food and drink.
The Swiftieconomy may be bigger than the economy of Aruba but makes up just 0.04% of the U.S. economy's $13 trillion six-month GDP (the Eras Tour ran from March to August 2023, nearly six months).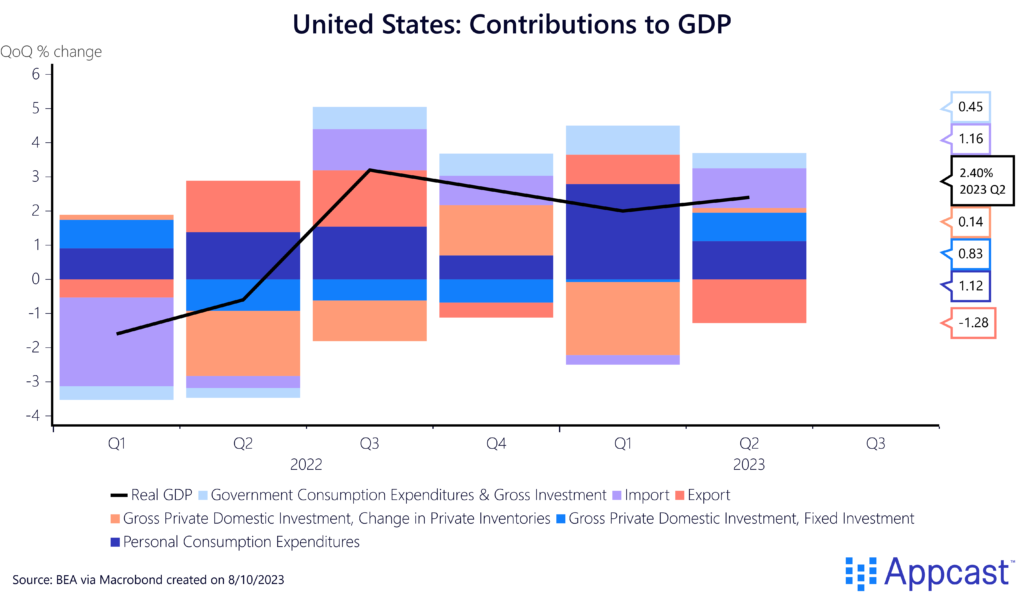 There's no denying that the Eras Tour is a cultural phenomenon, but the impact of the tour is not the sole reason the United States has avoided a recession thus far. Instead, the high demand for and impressive spending around her tour contributes to the larger trend of massive consumer spending that has kept the U.S. afloat. Currently, personal consumption expenditures make up 68.1% of GDP, which is higher than pre-pandemic levels, but down from its most recent peak in 2022. This level of spending is nothing new, as consumer expenditures usually make up a large chunk of GDP. The love story between Taylor Swift and Swifties is not on its own saving the economy but it's helping!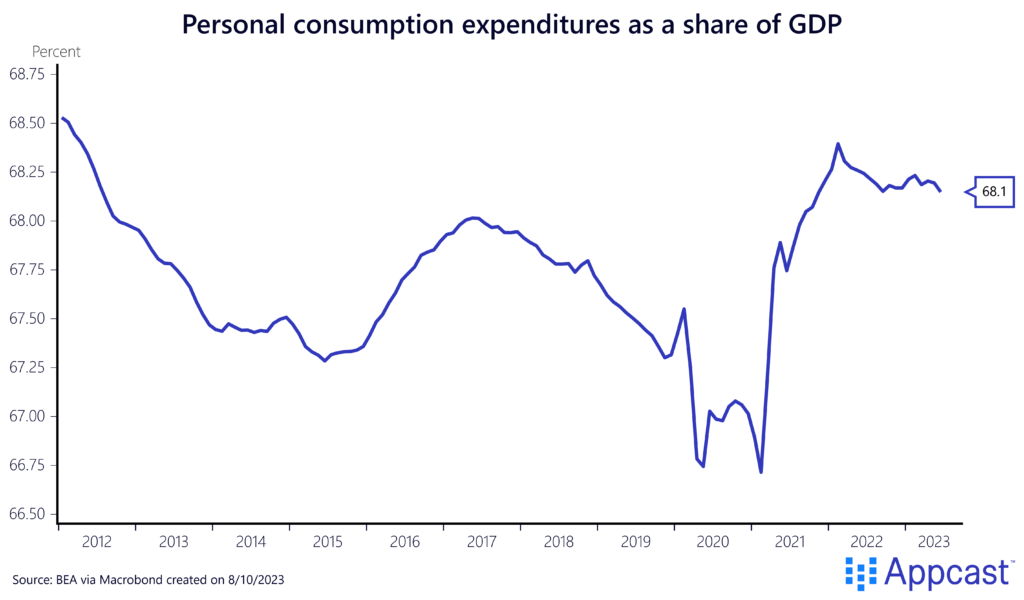 Consumers had a blank space
The demand for the Eras Tour is the stuff of legends. Ticketmaster, the ticket sales company that handles Swift's tours, notoriously failed to accommodate Swifties' demand during the first round of ticket sales. Prices for tickets on the resale market exceeded $80,000 in some cities.
Just four years ago, Taylor Swift had planned a much more subdued tour after her 7th studio album, Lover. This reduced, festival-style tour was only to consist of four shows, two outside Los Angeles and two outside Boston. Demand was high, yes: There were only around 280,000 tickets available across the country. But the demand was nothing compared to this year. In 2022, when the Eras Tour sale opened, 2.4 million tickets were sold in one day, after more than 14 million fans signed up for pre-sale.
Of course, some of this mad demand can be attributed to how productive Swift's pandemic was (in the four years since Lover, she has released three new studio albums and rerecorded three of her first six albums). But it also says something about the demand for the arts and entertainment that American consumers are settling back into after such a long pause.
During the pandemic, spending on these fulfilling services shut down completely. Output from the industry crumpled and took some time to recover, finally reaching 2019 trends in the second quarter of 2022.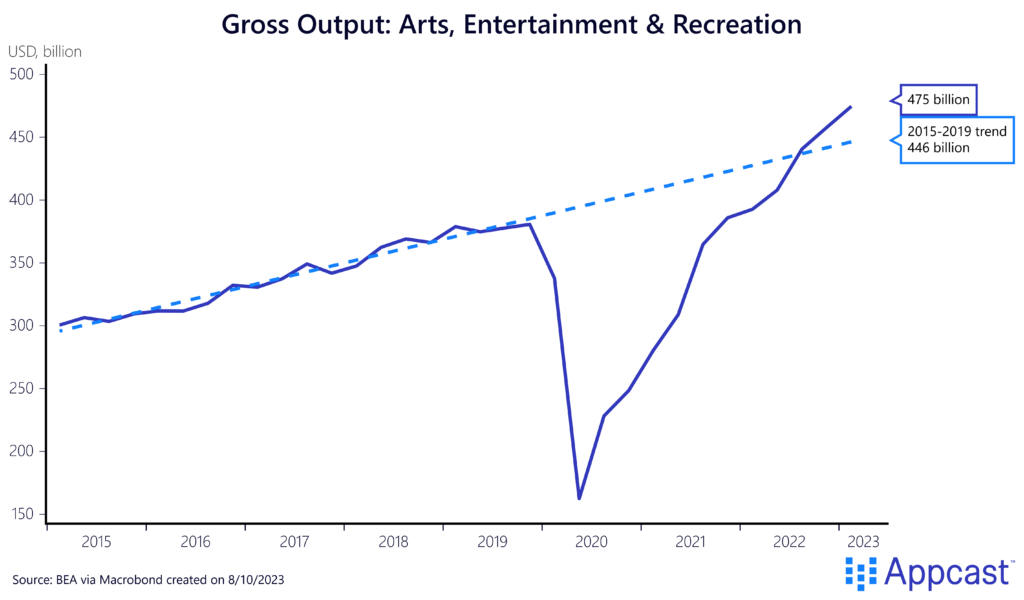 The Eras Tour has captured the cultural zeitgeist (and millions of dollars) but it has come at a time when that was possible. Consumers are more excited and ready to spend than ever, especially on performances like those that were cancelled during the pandemic. Just look at Beyonce's Renaissance tour: Taylor Swift isn't the only icon expected to make billions on the road this year.
That uptick in spending is helping to increase demand for labor in the industry, as well, now at 2.4 million.
The Fed is shaking it off
Even if Taylor Swift's tour was boosting the economy to the degree that some of these articles suggest, the spending is coming at a time when the Federal Reserve is wrapping up a rapid interest rate hike-cycle. The economic impact of the Eras Tour is easily offset by depressed investment and increased borrowing costs that higher interest rates bring. Fed Chair Jerome Powell therefore hasn't recognized Swift's influence (though he might just be mad that the Eras Tour skipped over the DC area).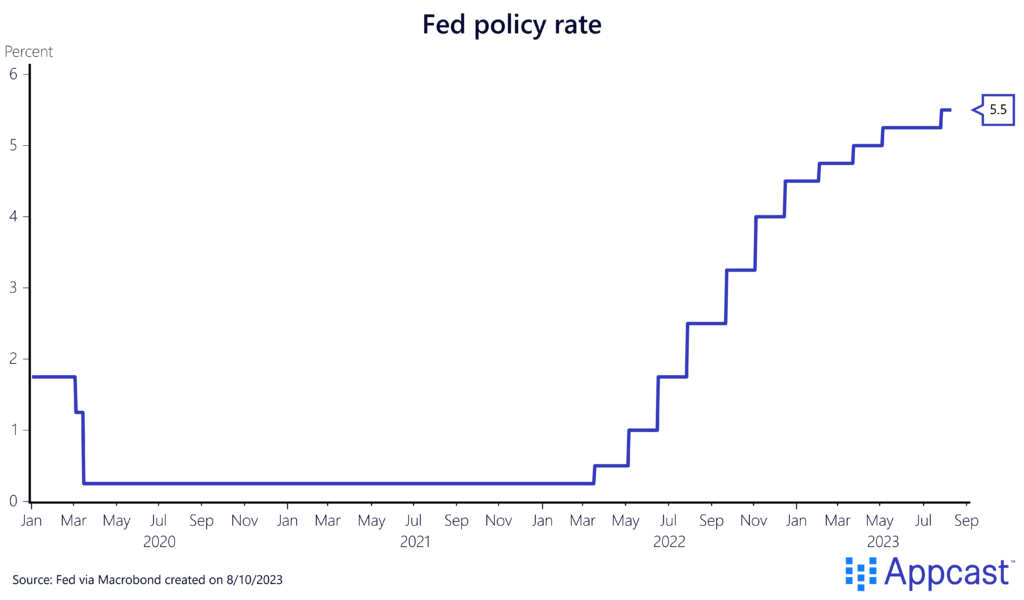 Long story short: we're being too loud
Unfortunately, "economic lifesaver" cannot be numbered among Taylor Swift's other great accomplishments. While this tour is certainly the best thing many will spend their money on this year (me included), it's likely much of that money would have been spent without Taylor's help. Consumer spending is in line with its historic share of GDP, so the additional spending caused by the Eras Tour is not enough to sway the U.S. economy.
The cultural moment that the Eras Tour created should not be overlooked. Last night, as she ended her final show in the U.S. this year, Taylor Swift's impact was larger than ever, even if it hadn't meaningfully change GDP.
Julius Probst, PhD, contributed to this piece.