The consumer price index hit another 40-year high in June, up 1.3% from May and 9.1% from the year before. Broad-based increases contributed to this hike, and high energy prices persisted in driving the report.
Energy prices continued to soar in June, with gasoline prices rising 59.9% from the year before. Consumers may have noticed a recent decline in prices at the pump, but drops in recent weeks are not yet recorded in the data. If that trend continues, future reports may see decreased headline numbers.
Core inflation, stripped of volatile food and energy prices, continued to moderate slightly in June, rising 0.7% from May and 5.9% from the preceding year. Price increases were broad-based across indexes, with some notable rises in new and used vehicles. Core services saw an increase of 5.5% year over year. If these less-volatile rates persist at a high level, the Fed's fight against inflation could intensify, prompting an economic slow-down.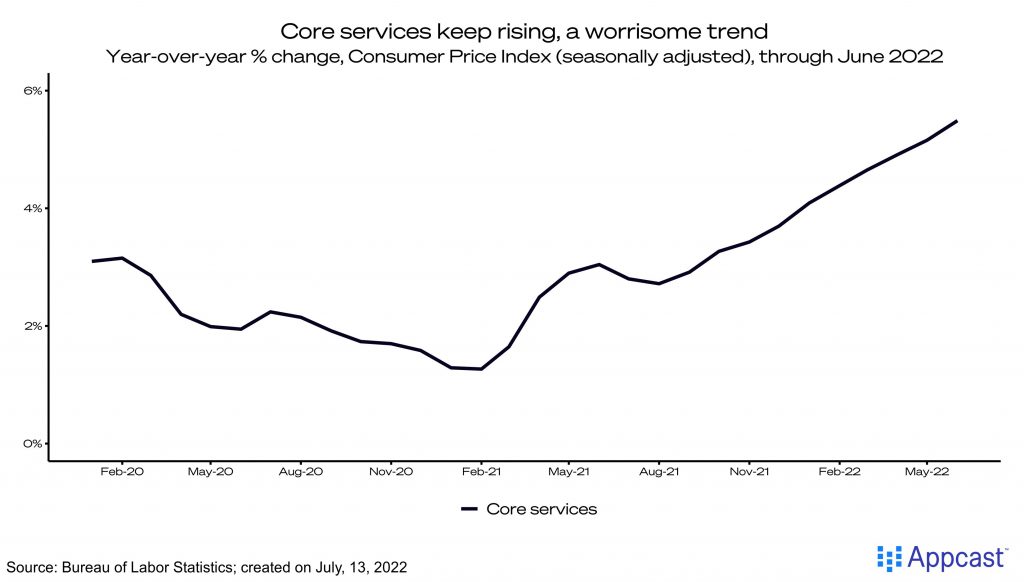 What this means for Recruiters:
Higher prices complicate the economy as a whole, and with it, recruiting. As the cost of living increases, workers will want higher pay. Real average hourly earnings decreased 3.6% in June; inflation is already eating away at wages. Competitive recruiters will need to show job seekers they are considering inflationary pressures when setting wages.
As the Fed continues to push back against inflation, the economy might begin to slow. With record-high job openings, the tight labor market has so far been immune to recession worries. That will change as companies adjust and consider pulling back on hiring. In the short-run, less job openings means less competition for workers, and this tight labor market could ease.