In 2022, the U.S. economy added over 4 million jobs and the labor force expanded by 2.5 million people. In December specifically, 223,000 jobs were added and the unemployment rate fell to 3.5% – a new 50-year low. While these top-line numbers speak to the continued strength of the labor market, looking into the details of the report reveals even better news.
Those delightful details: Labor force participation rebounded, wage gains moderated, and job gains were strong in leisure and hospitality, healthcare, and construction. That said, job losses occurred in information (aka "tech") and professional and business services – a reflection of the sectors' weakness, even if it's an exception to the tight labor market rule.
Fed happy with wage growth trends
The Fed has been watching wage growth trends in its pursuit of taming inflation, so today's news that wage growth moderated in December was probably welcomed. The November wage "pop" that we saw in the last report was a mirage – revisions lowered that considerably. Average hourly earnings (3-mo. annualized) for private sector non-managers slowed to 4.2%. That is exactly what the Fed wants.
Encouraging rebound in job seekers
The prime-age labor force participation rate ticked up to 82.4% in December 2022, reversing three months of declines. Recruiters are cheering the return of more job seekers and it's good news for alleviating wage pressures, too.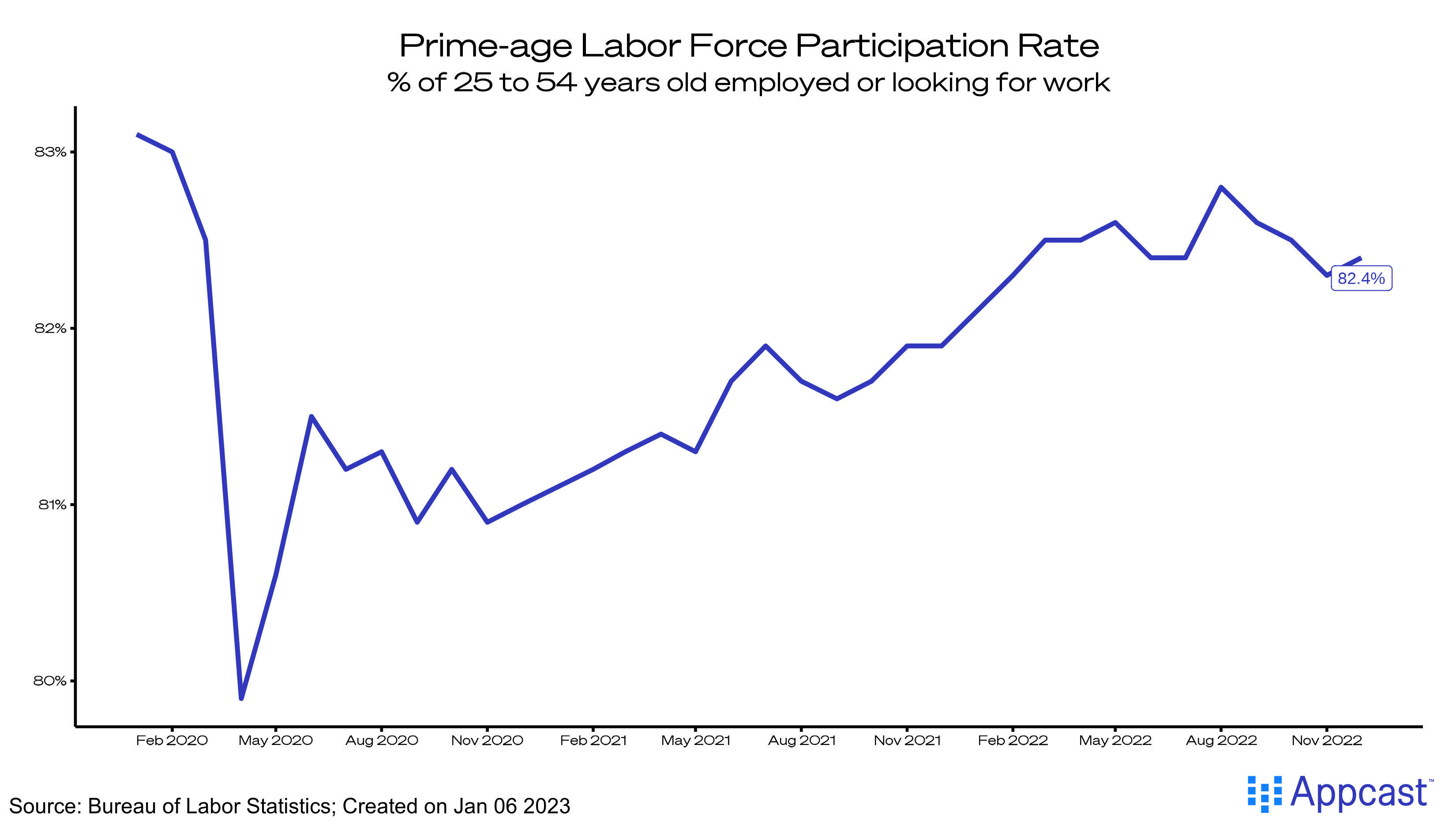 Job gains solid – except for tech
Job gains came from all over – recent powerhouse sectors continued to make incredible gains. Leisure and hospitality gained 67,000 jobs last month and healthcare was a beast with 55,000 gains.
In other sectors, gains were surprising. Construction, despite the weakening housing market, added 28,000 jobs.
One exception was the confusingly-named category "Information" (which the BLS is soon to reformat), the best proxy for technology jobs that we have. In keeping with recent headlines about tech layoffs, jobs here are softening, with a decline of 5,000 in December.
Professional and business services (which also includes some tech jobs) also shrunk last month, shedding 6,000 jobs.
This contraction in white-collar sectors is surprising – it seems the weaknesses in the economy are concentrated in these well-paid sectors. This may be a "white-collar slowcession" – slowcession, an apt term from Moody's Analytics, meaning the economy is slowing but not in a recession. The recent losses in these two industries suggest an ongoing correction from the hiring craze in 2020 and 2021.
What does this mean for recruiters?
There was no sign of a recession from the labor market in December (or at all last year, for that matter). Monthly job gains beat expectations, more job seekers returned to the labor force, and wage growth is on a glide path for the Fed's fight against inflation. Depending on their industry, recruiters face another robust, yet tight labor market in the new year.