Kyla Scanlon popularized the notion of a "vibecession" last year. It's a funny term that means serious business. The idea is that deteriorating perceptions of the economy (bad vibes) induces an actual contraction in economic activity. A recession is then, ultimately, a psychological phenomenon: People lose confidence that future economic growth will sustain their current job and income, companies expect sales to falter from current levels, people spend less and companies then pullback on investment. And there you have it: recession as a self-fulfilled prophecy.
Yet when we look back on 2022, the U.S. economy remarkably shrugged off this incipient "vibecession." Those "bad vibes" never amounted to anything more. Another way to conceptualize this is a growing disconnect between "soft" and "hard" economic data, as pointed out by Conor Sen (among others).
The vibes…
"Soft" data refers to high-frequency surveys of businesses and consumers. It's akin to sentiment. And over the past year these measures have gotten worse. The Institute for Supply Management (ISM) conducts monthly surveys for manufacturing and services companies, respectively. These ISM readings grew steadily weaker throughout 2022 (before bouncing back recently). Surveys of people, whether it's the University of Michigan's Consumer Sentiment index, or the Conference Board's Consumer Confidence, also weakened. "Soft" data is often forward-looking. And in early 2022 it was portending a downturn.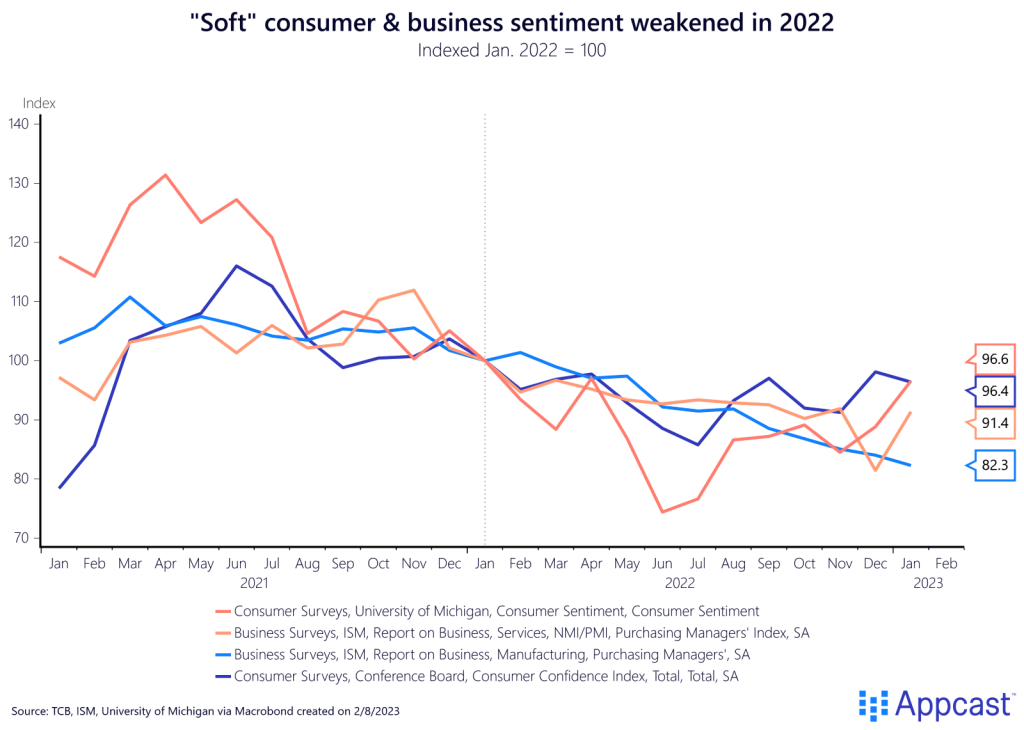 … and reality
But the "hard" data never complied. "Hard" economic data is not based on surveys, but actual, measurable activity – sales, production, and hiring. Throughout 2022, the "hard" data outperformed the "soft" data consistently. The labor market was especially strong: nonfarm payrolls ending the year over 3% higher. And real GDP grew by 1% – hardly an indication of an imminent recession.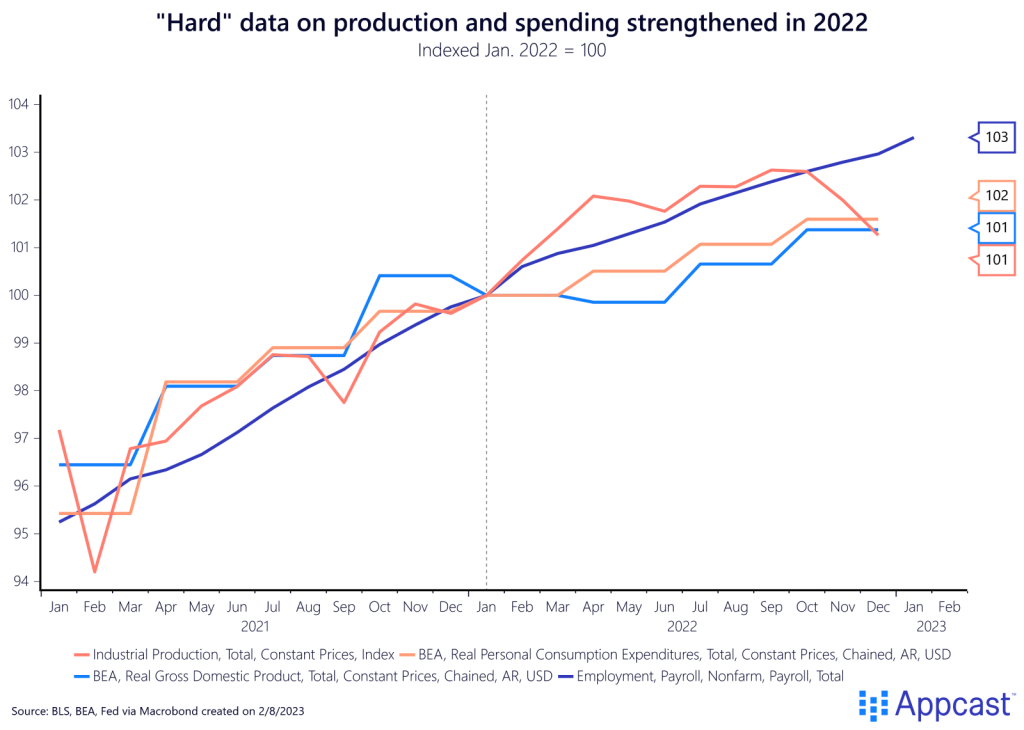 It's a good bet that 2022 was not a year of a recession. The arbiters of a U.S. recession are ultimately the members of the Business Cycle Dating Committee of the National Bureau of Economic Research (NBER), and they declare recessions retrospectively. This group of academic economists defines a recession as "a significant decline in economic activity that is spread across the economy and that lasts more than a few months." In other words, they're considering the full picture, looking at several economic indicators before declaring a recession.
Here are most of those indicators replicated below. Indexed to January 2022, the chart below shows all but one of these indicators (sorry, real manufacturing & trade sales) finished the year with growth, albeit modestly so in many cases.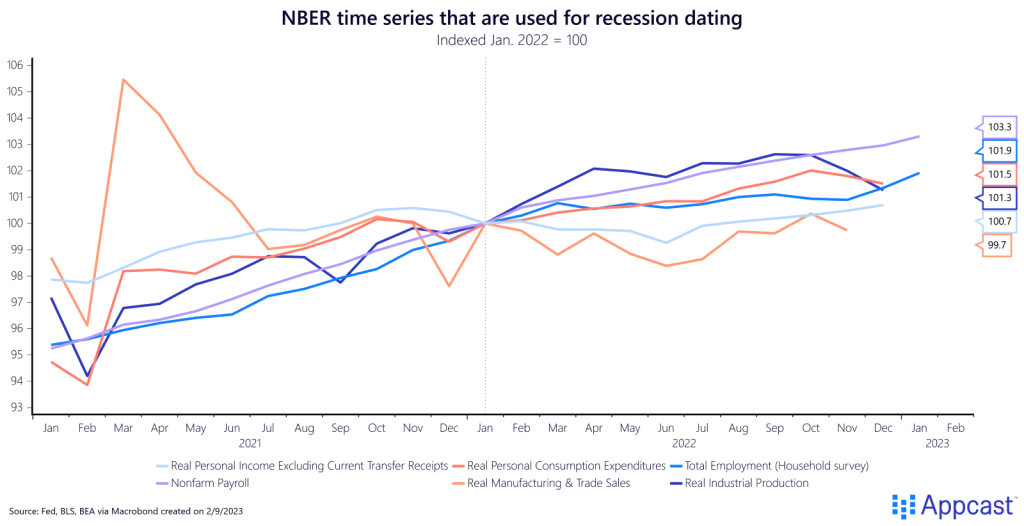 Why so blue?
So why did the "vibecession" happen in the first place? And why didn't it translate into an actual recession? One theory is that the end of the so-called Great Moderation – the multi-decade period of low inflation that began in the mid-1980s and continued until 2020. Consumers and businesses alike had grown accustomed to low and stable prices. But when the post-pandemic supply chain bottlenecks combined with super-tight labor markets and soaring energy prices after Russia invaded Ukraine, inflation returned with a vengeance. The subsequent psychological uncertainty of inflation rising at the fastest pace in 40 years was enough to push sentiment deeply negative.
Yet the recent spike in inflation (and interest rates) was overwhelmed by the strong balance sheets of households and firms, buoyed by historically aggressive fiscal stimulus in 2020 and 2021. The fundamentals – for consumers to spend, and companies to hire – did not cave in to deteriorating expectations. And now, inflation is (tentatively) receding, notably driven by lower gas prices over the last six months (which Americans are particularly sensitive to). No wonder sentiment is recovering!
In conclusion, the U.S. economy's "hard" data beat out the (understandably) dour "soft" data. The doom-and-gloom of "vibecession" hasn't translated into an actual recession. Not yet anyhow.