The Bank of England (BoE) just hiked its policy rate by another 50 basis points to 4% as U.K. inflation peaked at just over 11% at the end of last year. And even with the commodity price shock subsiding and the U.K. economy expected to fall into a recession, it will take more than a year for inflation to gradually return to target.
This week's monetary policy meeting, however, showed that the BoE has significantly revised its short-term economic outlook. As we wrote in a recent blog post, the BoE's forecasts from the end of last year were uber-hawkish (to use a technical term) and didn't quite add up. BoE economists were forecasting a very deep recession that would last more than one-and-a-half years with unemployment increasing to 6.5% by the end of 2025.
This extremely pessimistic outlook struck us as unrealistic even with more rate hikes to come to bring inflation down and Brexit inflicting permanent damage on the economy. And the BoE now seems to agree with our assessment that their previous economic forecast from last November was way too pessimistic. Their new projections released this week show a massive downward revision for the unemployment rate forecast.
Instead of peaking at 6.5% in 2025, BoE economists now expect unemployment to rise to only 5.3% in 2025, a downward revision of more than one percentage point that is more in line with the forecast from the Office for Budget Responsibility (OBR).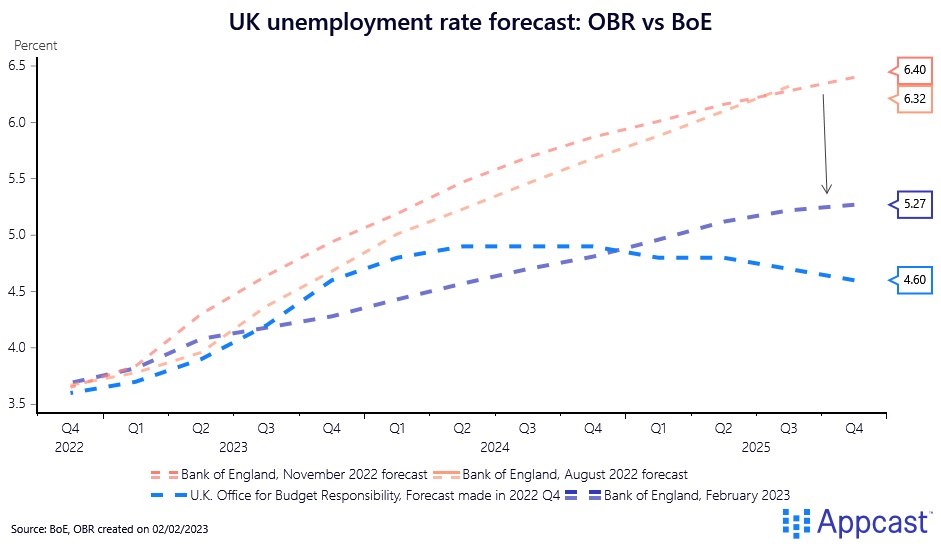 Similarly, the GDP projection now also looks way less gloomy, although a U.K. recession is still the baseline scenario for not only the BoE but also the IMF, the OECD, and other institutions.
The BoE is still forecasting a long-lasting recession of about 6 quarters, but now expects it to be much shallower than previously anticipated. The November forecast had real GDP decline by as much as 1.9% in 2023 with zero growth in 2024. This has now been revised upwards to a GDP decline of only 0.5% this year – similar to the IMF's 2023 forecast of minus 0.6% – while still projecting 0% growth in 2024 (the IMF is much more optimistic and assumes a recovery with 0.9% growth in 2024).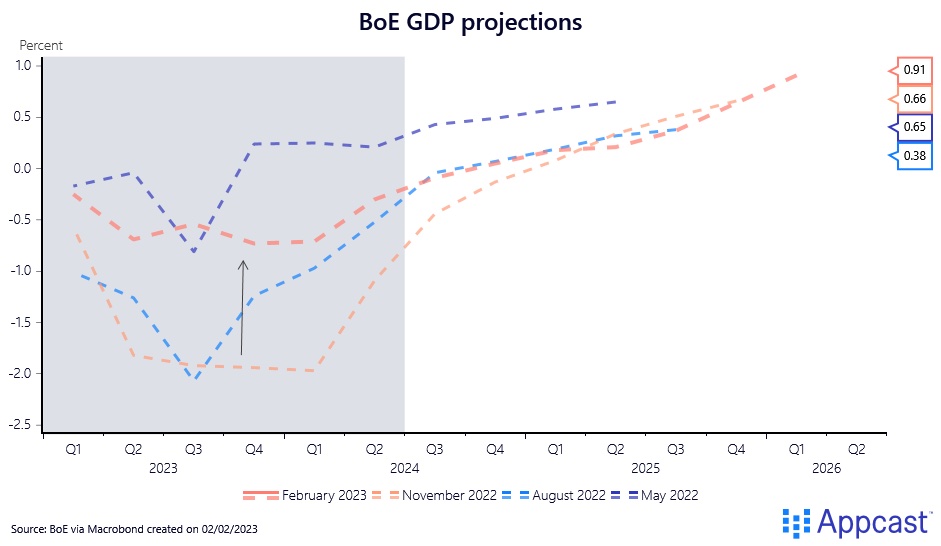 As the following chart shows, there is a large amount of economic uncertainty regarding the U.K.'s near-term economic outlook with different institutions projecting a widely different GDP trajectory over the next two years, ranging from 0% growth to 1.3% growth in 2024.
The BoE forecast has become much less pessimistic for 2023, but still assumes economic stagnation for the year thereafter whereas the IMF and the OBR are projecting an economic recovery.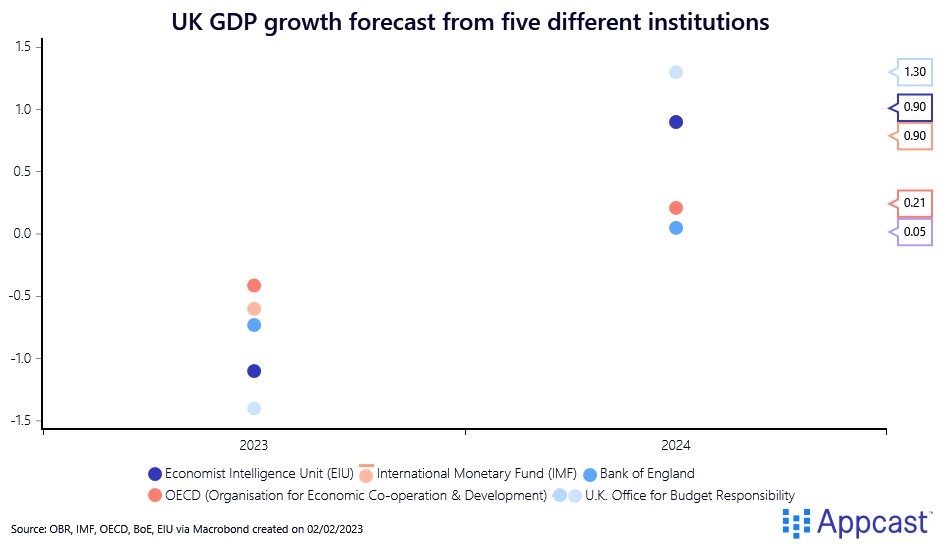 To sum up, the BoE economic forecast from last year was way too pessimistic. With this week's rate hike, its projections have seen a significant revision and are much closer to what other institutions forecast for 2023. For next year, however, the BoE still sees zero growth for the U.K. economy whereas the IMF anticipates a better economic recovery. Economic uncertainty remains very high, and we will have to wait another year and a half at least to see who turns out to be right.