Germany has become one of the most popular immigration destinations in Europe in recent decades. An increasing share of German residents have a migration background. While this is great news for the country in terms of stopping its demographic decline, German immigrants face significant barriers when it comes to integrating into the local labor market. There are also signs of a skill mismatch as the labor gap for skilled workers is surging with no relief in sight.
Germany's dire demographic outlook
It is no secret that most advanced economies have been facing adverse demographic trends for many years. And Germany is one of the European countries that is affected most. Here is something to chew on: Without positive net immigration, Germany's population would already have been shrinking since 1972, as more people have died than were born every year since then.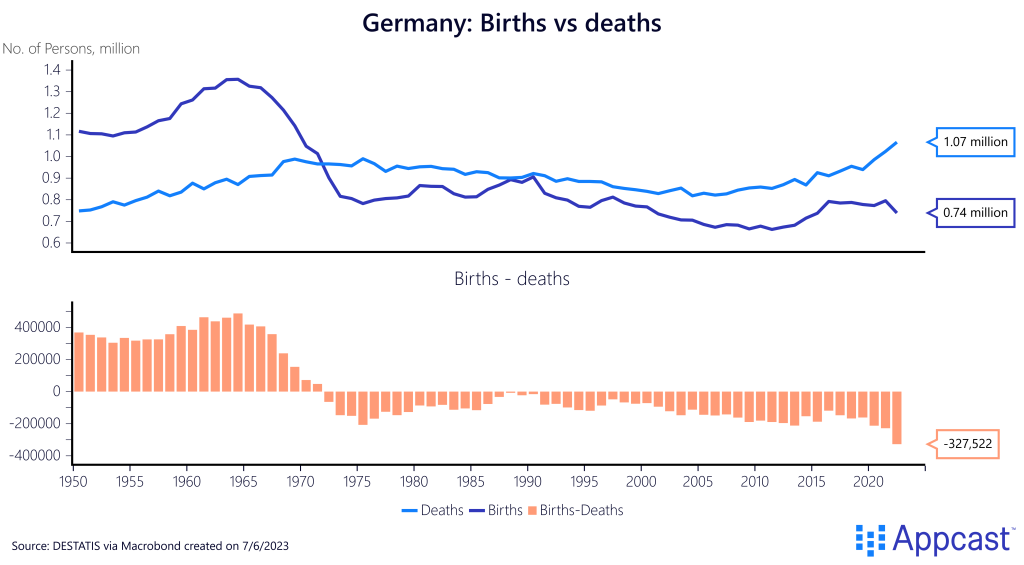 As a result, the German population pyramid is seeing some dramatic shifts as well. In recent decades, the German median age has already increased from about 36 years in 1990 to about 45 years in 2020. And this aging will continue to progress, as population forecasts from the United Nations show.
The calculations below are based on the medium fertility assumption, which is probably an overly optimistic scenario. As one can see, Germany's population of 20-, 30-, and 40-years old will shrink dramatically between 2023 and 2050. Even the 50- and 60-year-olds will see a modest decline. Meanwhile, all age groups above 70-years old will see significant increases as life expectancy continues to go up.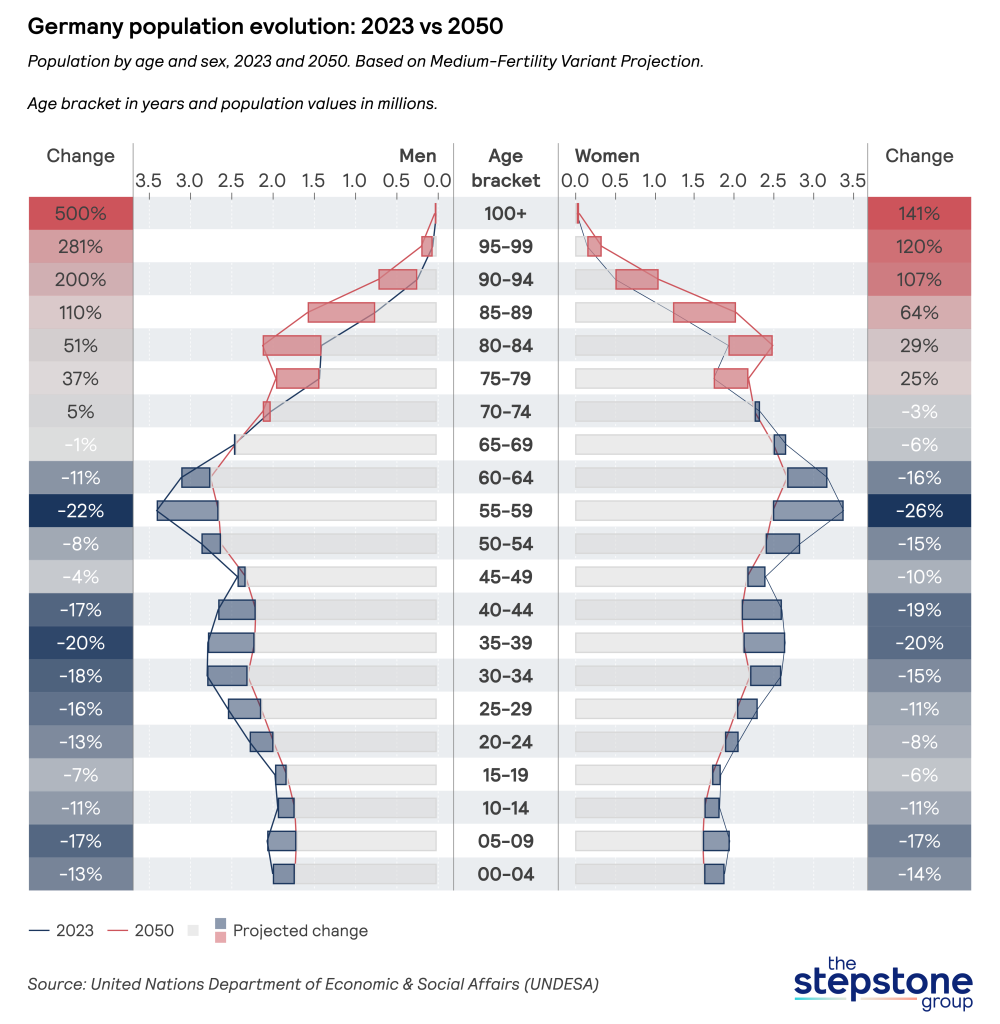 Migration is the game-changer needed
Germany has already become a very popular migration destination in recent decades. In fact, the share of foreign-born is close to 16% and one of the highest among advanced economies. The two humanitarian crises – Syria in 2015 and 2016 and more recently the war in Ukraine – have helped increase that number; Germany was one of the countries welcoming a significant share of refugees. It is estimated that more than a million refugees, most of them from Syria, arrived back then and most of them have stayed in Germany. More recently, a similar number of Ukrainian refugees came to Germany as well.
As the following chart shows, Germany saw a record inflow of more than 2.6 million immigrants last year. At the same time, emigration from Germany was also elevated, exceeding 1.2 million. However, this leaves net migration at a record high of 1.45 million in 2022, exceeding its previous peak of about one million in 2015.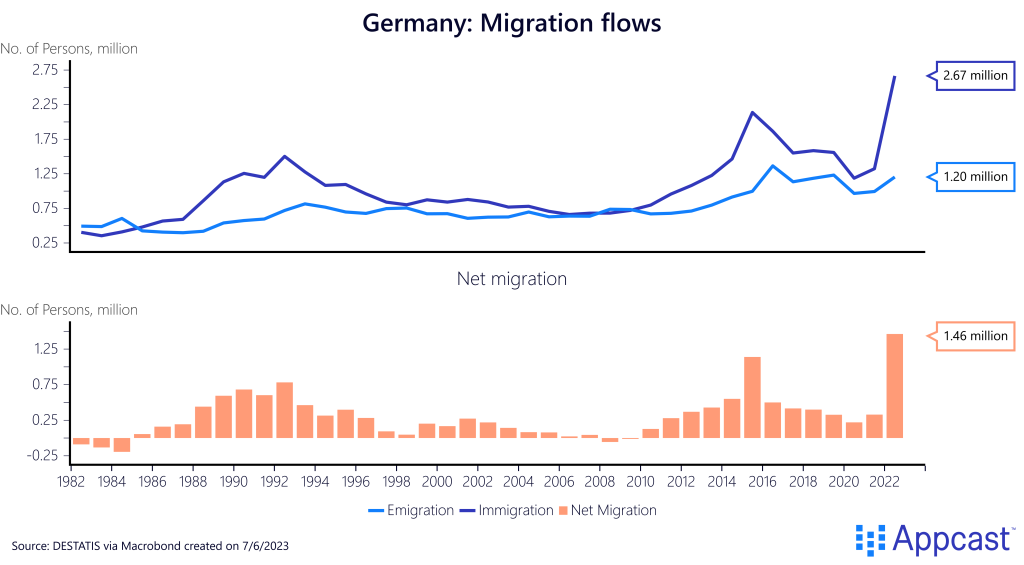 As a result of the high immigrant inflows, Germany's population reached a record high 84.5 million last year. This notable population increase also has implications for the country's long-run forecast.
The older World Bank forecast from late 2021 projected a population decline all the way to 78 million by 2050. More recent projections from the German statistics office that take the latest population bump into account now see a decline to only 81.6 million, and that is one of the more pessimistic assumptions ("low birthrate and small rise in life expectancy with a moderate migration balance" scenario).
A strong rise in life expectancy combined could mean that the German population might remain stable at about 84 million. And an aggressive increase in immigration could mean that the German population might not shrink after all but increase to more than 88 million.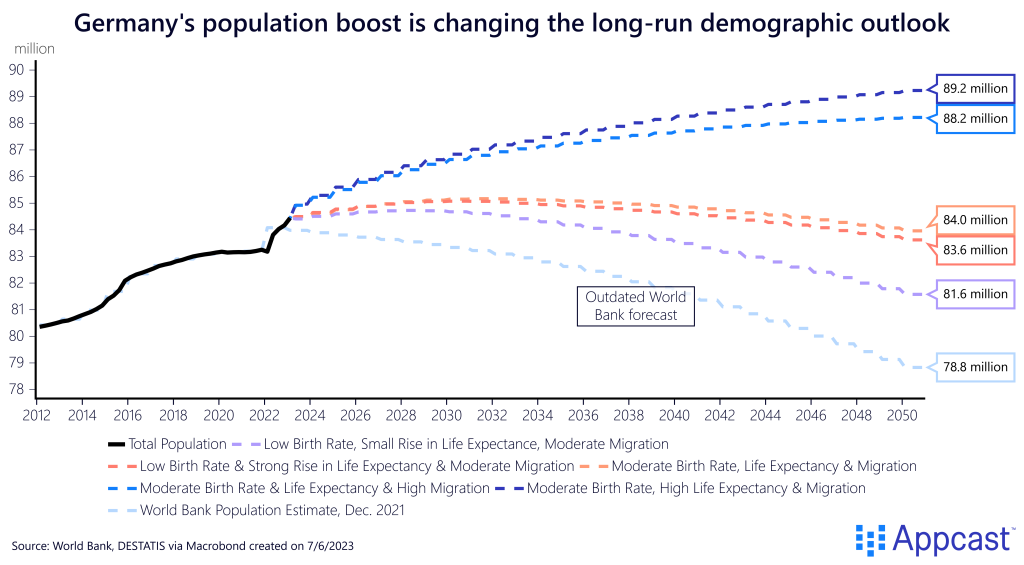 As one can see, these population projections are actually quite uncertain and heavily depend on the assumptions that go into them. While both birth rates and life expectancy are very slow-moving variables that are easier to predict, migration flows are not!
And it is really the future of German immigration that will have the biggest impact on German population growth and will determine whether the country's population will fall to below 80 million by 2050, remain stable, or even slightly increase. And these migration flows, of course, are both a function of domestic policy as well as international events.
Skill mismatches remain
Despite the recent massive inflow of people, Germany's economy is still struggling from labor shortages, especially when it comes to high-skilled workers. As the following chart shows, worker shortages have surged across all industries during the pandemic and remain elevated: An increasing number of firms are reporting that the lacking workers are limiting production.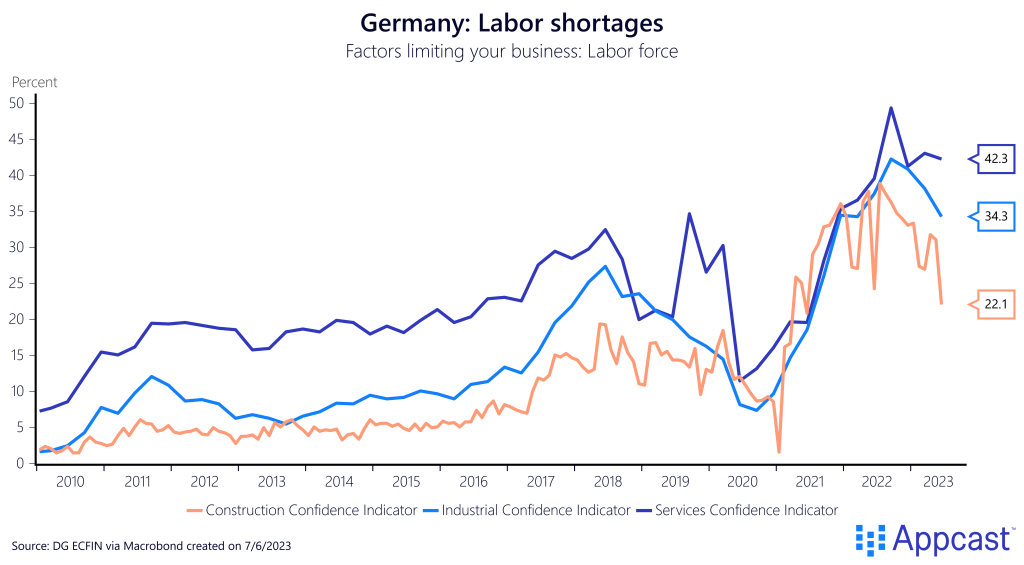 One reason why migration has only provided limited relief so far is that many of the new workers are not high-skilled. Additionally, they also face substantial cultural and language barriers. Estimates show that less than 50% of the Syrians who arrived a few years ago have found work in Germany, meaning that more than half of them are dependent on the German welfare system.
In general, workers with a migration background find it harder to seek employment. Stepstone research shows that only 2% of job ads in Germany are in English, most of them for IT and engineering roles. While the unemployment rate of natives stood at 2.8% in 2021, persons with a migration background had an unemployment rate about 2.3 times higher (6.5% in 2021). For comparison, in the U.S., the gap between the African American unemployment rate, the most disadvantaged minority, is twice as high as the White unemployment rate.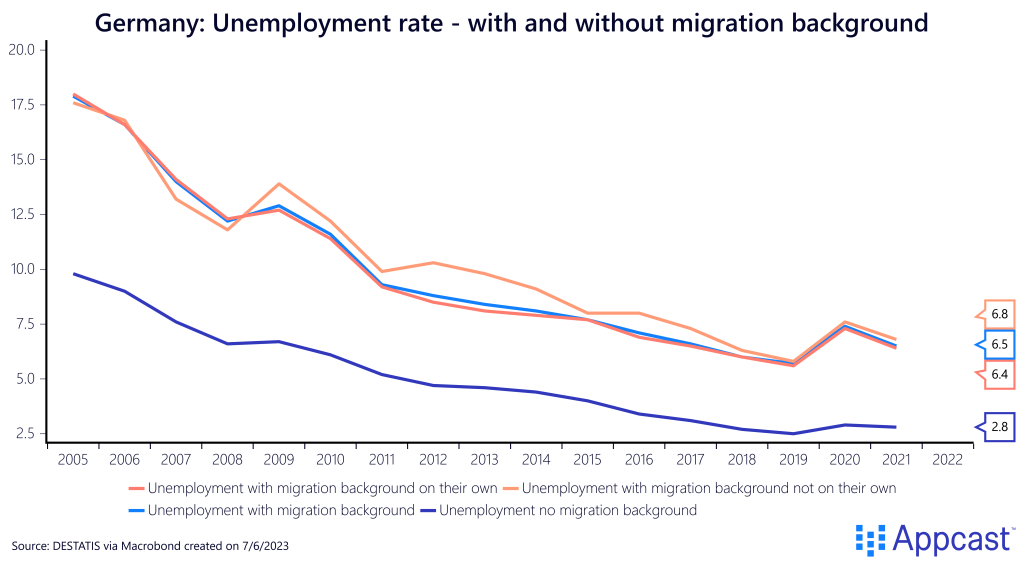 Germany therefore needs to tackle two big problems. First, attracting more global talent and high-skilled workers from the rest of the world. Second, making sure that more recent arrivals, many of which might be low-skilled, actually gain employment instead of being dependent on the German welfare system.
It is precisely for that reason that the German government just passed a new law in June that would make it easier for foreign skilled workers to immigrate to Germany: A points-based system similar to the one used by Canada will take into account age, skills, qualifications and any link to Germany. Furthermore, thresholds for salary, educational level and German language ability are lowered.
The new law thus represents an opportunity to attract talent from abroad that German companies should take advantage, according to Stepstone CEO Sebastian Dettmers.
Conclusion
Germany's economy is undergoing some fundamental changes. Our recent work shows how labor shortages have become a predominant concern for most businesses – the country is already missing more than 700,000 workers. Immigration has recently accelerated and is at a record high. This is good news because it changes some of the long-run demographic projections for the better. At the same time, there is a fundamental concern that many immigrants do not have the skills that employers require. Language barriers and discrimination are large obstacles for integration into the workforce. The German government needs a clear strategy to attract talent globally, as well as make more efforts to integrate the recent arrivals.