The U.S. labor market is slowing, which is to be expected. In July, the U.S. economy added some 187,000 jobs, the lowest since December 2020 and slightly lower than expectations (around 200,000). The three-month and six-month moving averages are steadily declining and are now about 220,000. After three years of red-hot gains, I'm sure we all (and the Fed) are happy to see a more boring print.
The unemployment rate ticked down a bit to 3.5%. This is the 20th consecutive month with an unemployment rate at or below 4% – one of the longest streaks ever.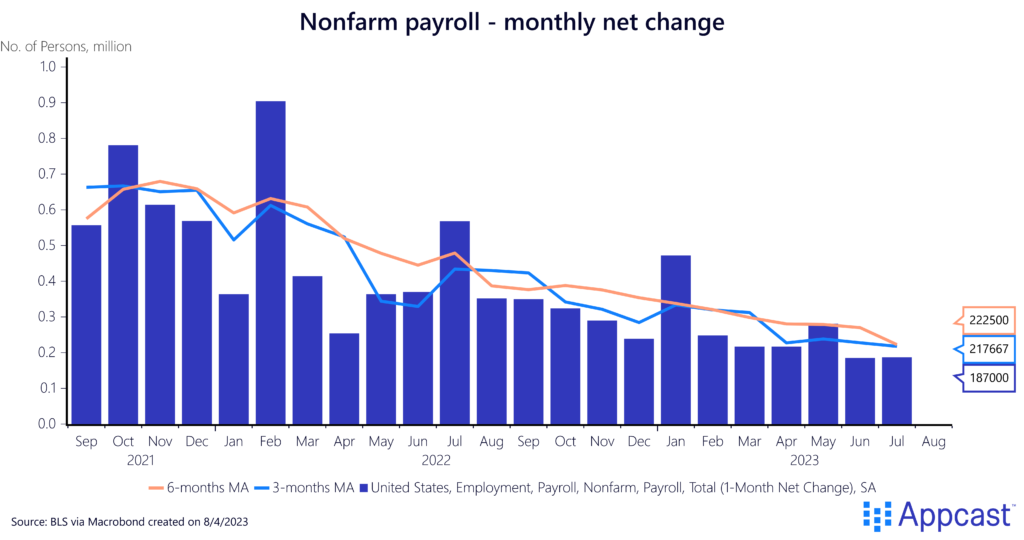 Prime-age employment is historically high at 80.9%, unchanged from last month. As vacancies continue to fall and job growth slows, the previously overheated U.S. labor market is normalizing quickly now.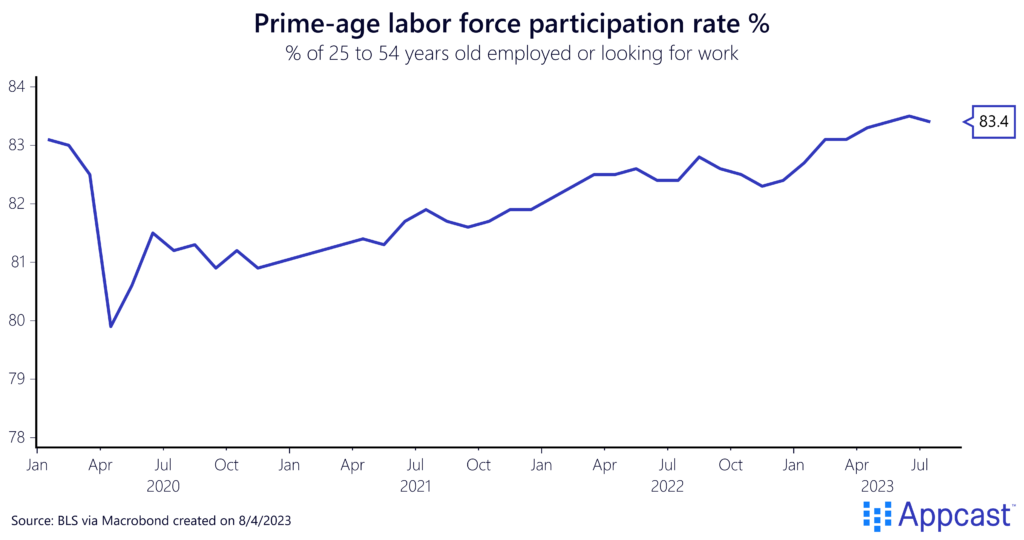 In addition to this slower report, job numbers for May and June were revised down as well by another 50,000: The labor market is certainly slowing to a more sustainable pace, no longer so red-hot that the Fed may be worried of inflationary splinters. Additionally, the recruitment process could ease slightly.
Wage growth accelerates again
Average hourly earnings have slightly accelerated, which is likely unwelcome news for the Fed. The Fed is trying to engineer a nominal slowdown to cool the economy but not too much to cause a recession. This acceleration of nominal wages is therefore the opposite of what they are trying to achieve.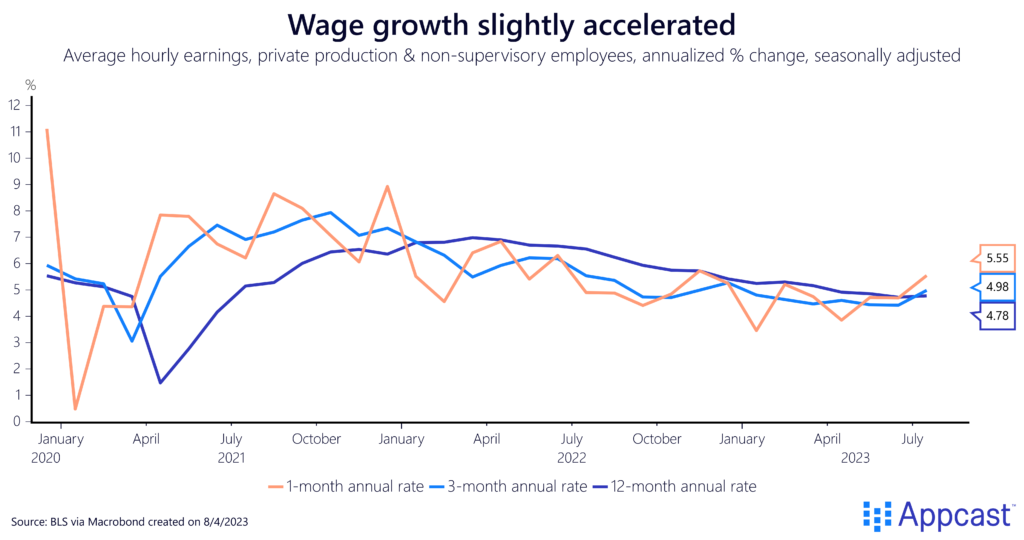 Industry dynamics are changing…

Across industries, there was some noticeable slowing. The usual powerhouse, healthcare, continued to add jobs, while other sectors realized losses.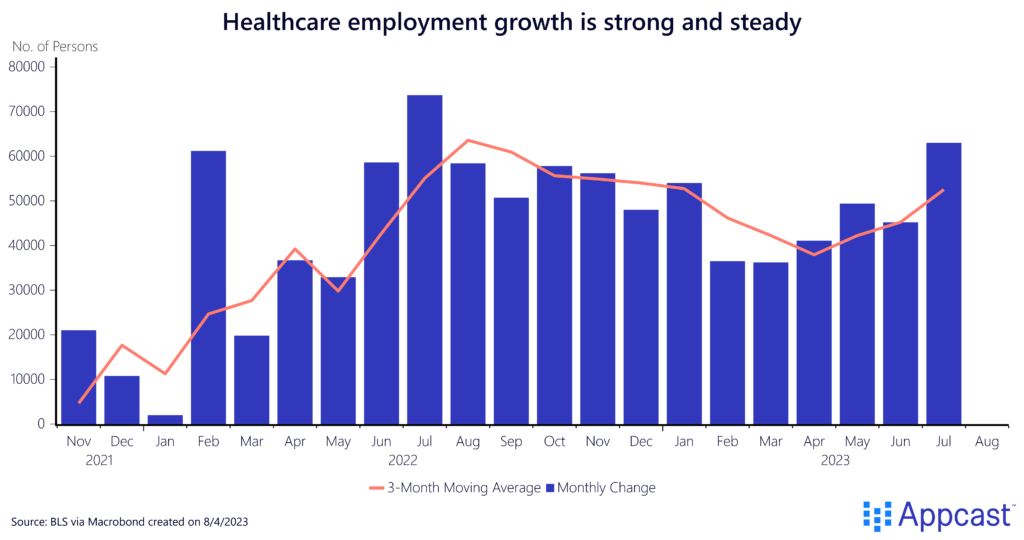 After remaining particularly strong throughout Fed rate hikes, the manufacturing sector is now clearly slowing, with 2,000 jobs lost in July.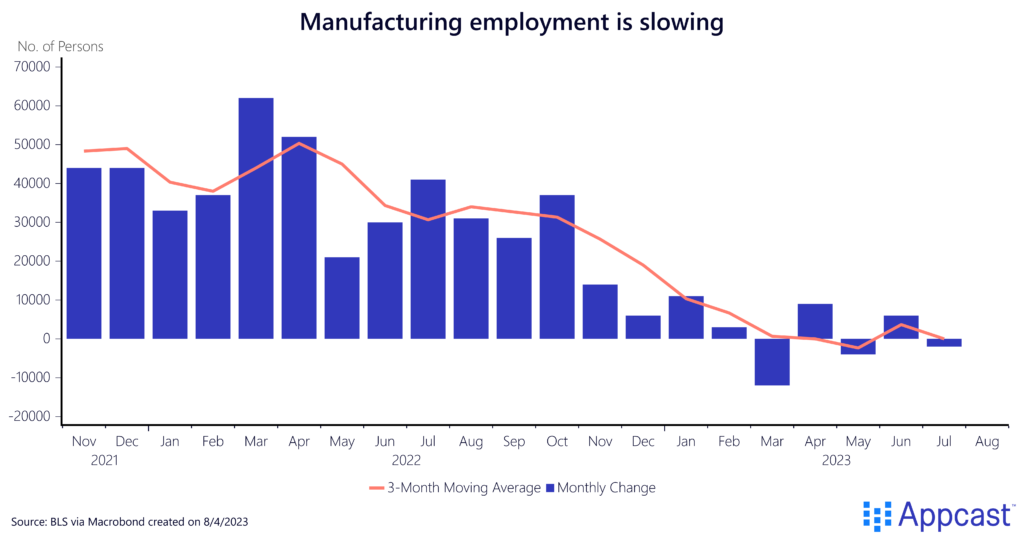 But for construction, another sector uniquely touched by rate hikes, employment remains strong.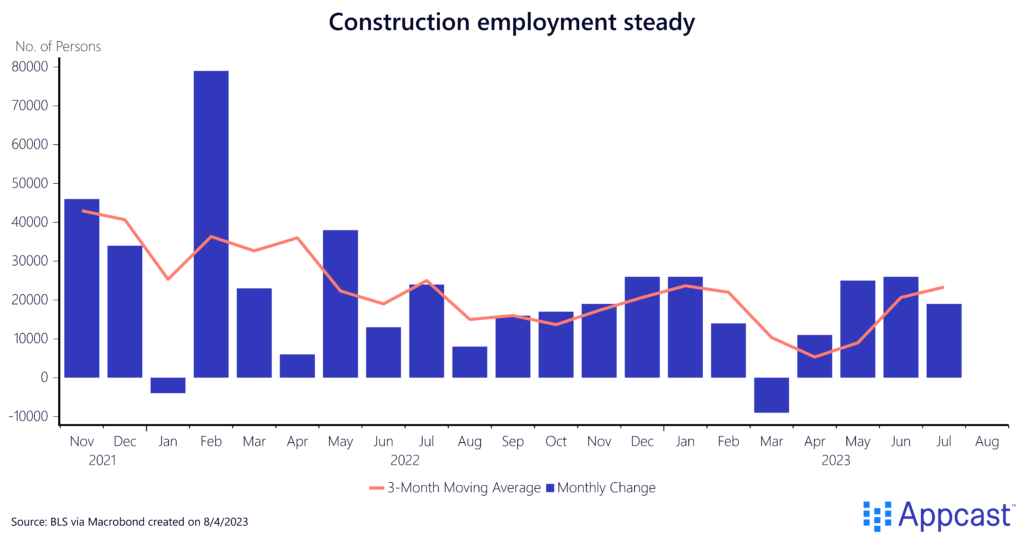 One of the most marked changes in industry dynamics in recent months has occurred in leisure and hospitality. After gaining jobs at a rip-roaring pace throughout 2022, the sector has seriously slowed in 2023, still adding jobs but at a subdued pace. In July, the sector added just 17,000 net new jobs, perhaps related to the unusually hot weather last month throughout the U.S.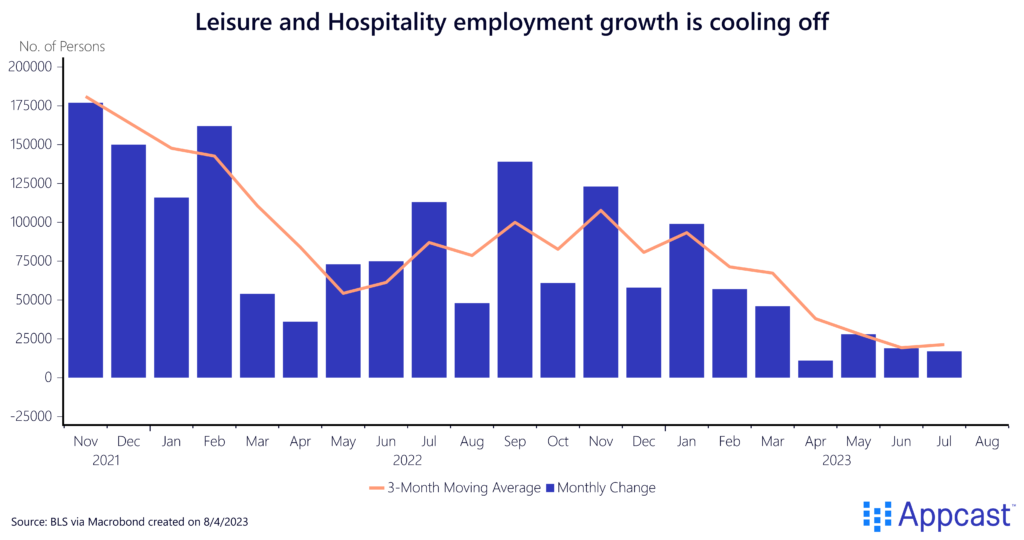 Farewell, exciting jobs reports
We have seen extremely volatile jobs reports since the beginning of the pandemic. Several throughout 2021 and 2022 exceeded half a million. Going forward, job report numbers will become a bit dull again – but lower volatility is a good thing! The U.S. economy is basically at full employment. With record-low unemployment rates together with a higher prime age participation rate than at any time during the last couple of decades, it becomes more difficult to draw additional workers into the labor force.
And – given that U.S. population growth has been slowing and the generation of baby boomers is currently retiring – job growth will naturally be slowing down. It is estimated that with current demographic developments, a monthly non-farm payroll (the headline number we report on each month) print of only 70 to 100 thousand might be needed to keep the U.S. economy at full employment. Any job number above that is still decent news for the labor market.
Even though jobs reports may have slightly duller headlines in the future, there are still many variables and dynamics to watch as this labor market continues to shift.