For the third time in a row, the Bank of Canada (BoC) has held its policy interest rate steady against the backdrop of a cooling labor market. Last month, just 18,000 new jobs were created while the employment rate (proportion of employed among working-age population) fell a tenth of a percentage point to 61.9%. An even more worrisome sign is that the unemployment rate also rose by 0.2 percentage points, climbing a total of 0.7 percentage points from its low point in April.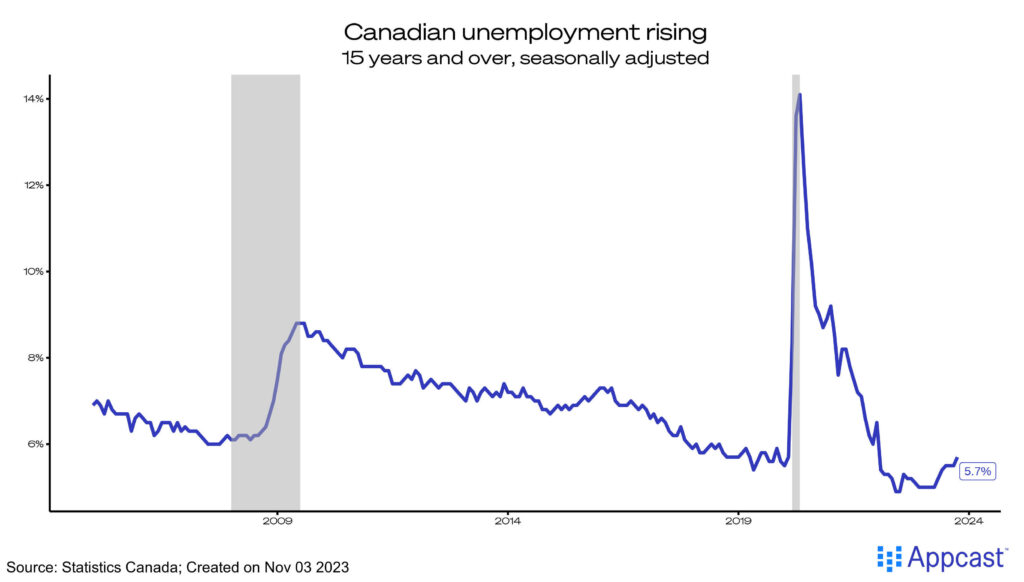 Wage growth and inflation are two key areas the BoC is monitoring beyond the jobs numbers, and both are showing positive signs. Indeed's wage growth tracker shows a gradual decline for Canada, while inflation – which has been troubling Canadians' pockets for some time – also ticked down to 3.8% (median CPI) after a summer of higher prices.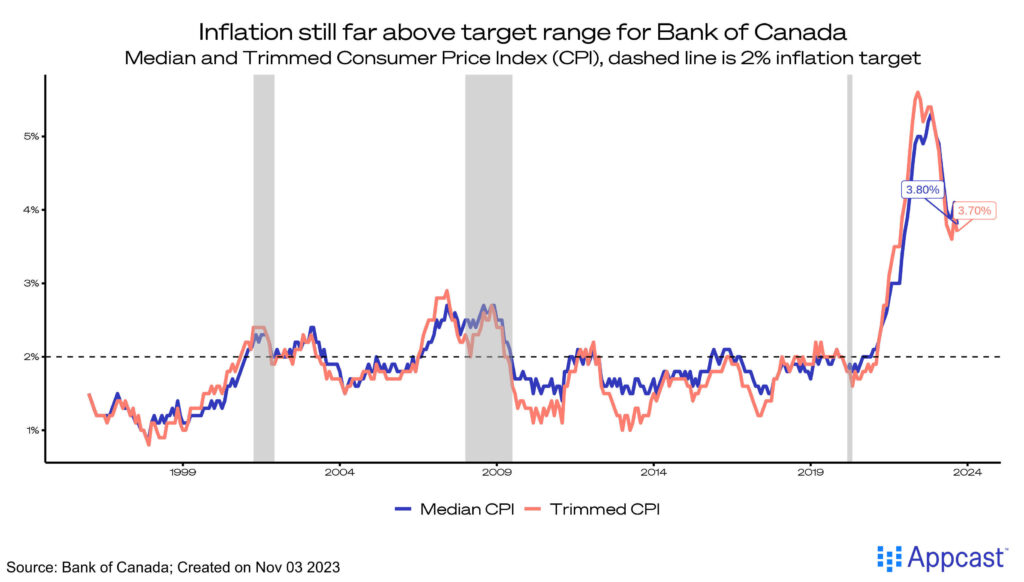 A softer labor market and slowing wage growth are both signs the Canadian economy is faltering, perhaps due to the impact of higher interest rates. Heading into 2024, policy makers will watch the labor market like hawks, closely monitoring for signs of whether the economy is heading into a recession. While rate cuts are unlikely for the rest of the year, the chance of a lower policy rate in 2024 is becoming increasingly more likely.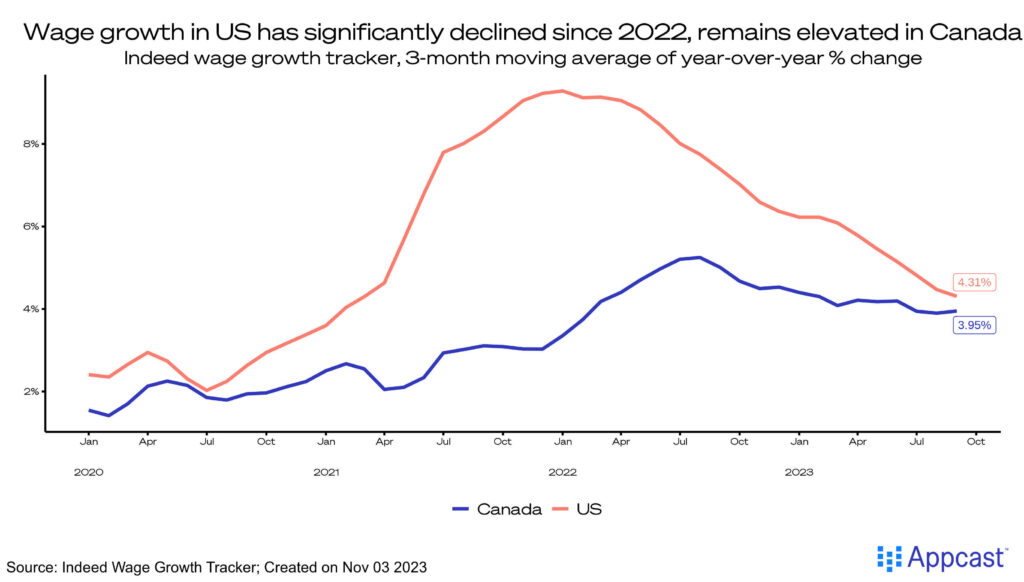 Sector Trends
The main driver of growth last month was the construction industry, which is welcome news given high mortgage rates. The industry added a solid 23,000 new jobs, which partially reversed the losses in September (-18,000). Information, culture and recreation also saw a solid rebound, adding 21,000 new jobs as well.
Warehousing and retail trade struggled the most – losing 22,000 jobs during the peak of the seasonal hiring period. This is particularly troublesome, since we would expect employers to hire cashiers and logistics workers at a higher clip heading into the holiday season. Retail sales fell in August, falling a percentage point indicating Canadian consumers are changing their spending habits given higher prices.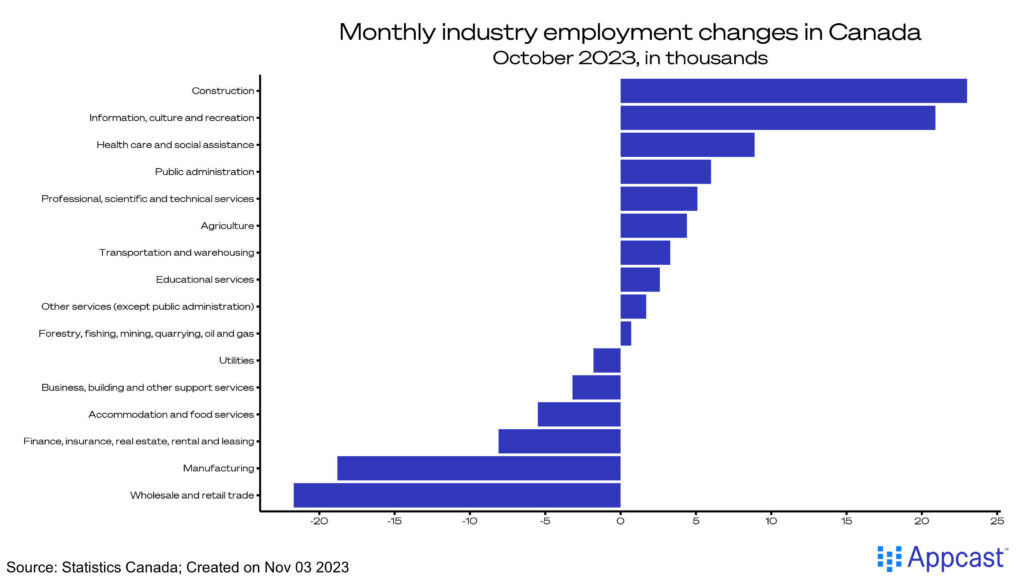 Demand for in-person workers hit a near historic high in 2022, with job vacancy rates far above their pre-COVID levels. Since the beginning of the year, we have seen a gradual descent from the peak, down to near-normal levels.
Particularly, the manufacturing industry had a vacancy rate of around 5% throughout 2022 and is down nearly half to 2.8%. Likewise, retail and transportation have also experienced similar declines. For recruiters hiring in-person roles, this should be a good signal that tighter conditions are softening.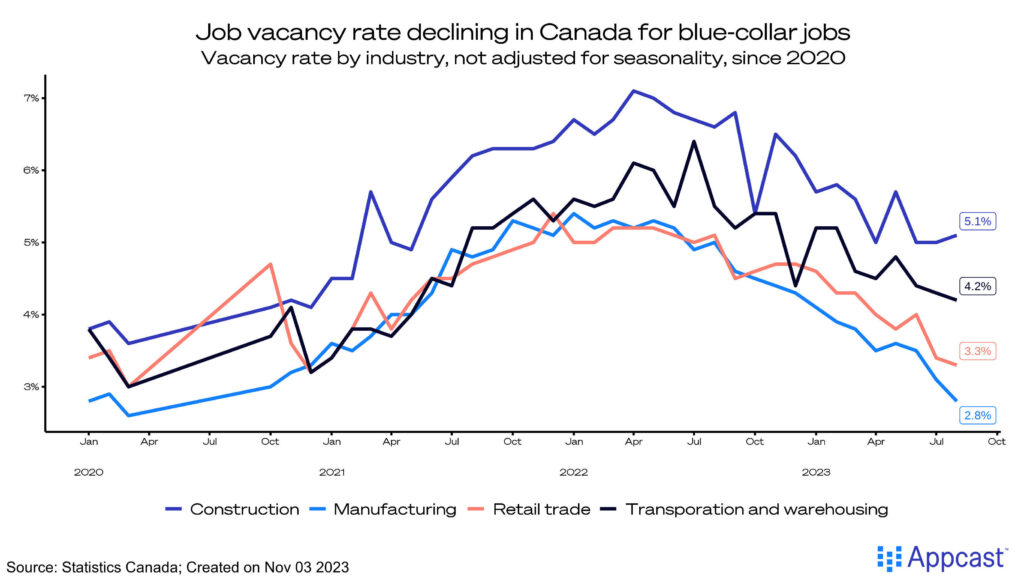 Labor Force Trends
The share of part-time work has steadily been rising over the past few months and could soon match the same level of full-time work. While part-time work does offer job seekers more flexibility over their schedule, it often comes with unexpected hours and makes planning a budget more difficult.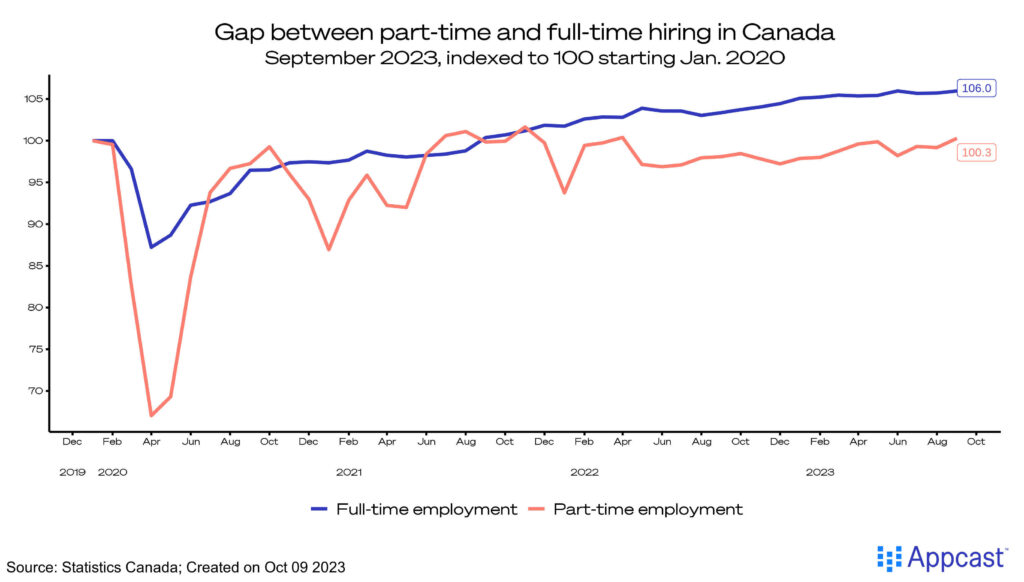 For much of the summer months, most job gains were in service-producing roles (adding 10,000 new jobs), which rapidly declined last month. Both industries added a similar number of jobs, after goods production had several months of losses. Lower consumer demand for both new goods and in-person activities (like dining) are appearing to fade, reducing hiring needs.
What does this mean for recruiters?
The Bank of Canada has maintained its policy interest rate amidst a cooling labor market characterized by sluggish job creation, a declining employment rate, and a rising unemployment rate. Although wage growth and inflation show positive signs, the softer labor market and slowing wage growth may be linked to higher interest rates, signaling potential economic challenges.
Recruiters should closely monitor the labor market for signs of a recession, as rate cuts are becoming more likely in 2024. For recruiters looking to hire in-person roles like cashiers and stockers, their opportunities may be more bountiful compared to industries like construction.