The labor market has been unprecedentedly tight since 2021 – finding the right worker has been nearly impossible. However, as 2023 develops, it seems costs may be returning to a, dare I say, normal level.
Outsized recruitment competition caused an increase in key costs: cost-per-click (CPC) and cost-per application (CPA) sky-rocketed in 2021. Simultaneously, apply rates fell as candidates considered a bevy of options.
Then, in 2022, even as the labor market remained imbalanced, recruiting costs eased slightly. CPC and CPA both were on a downward trend throughout the year – though it wasn't difficult to improve upon the high prices of the previous year.
Now, as we monitor these three all-important recruiting data series – CPC, CPA, and apply rate – we notice that these costs are actually returning to something like normal in 2023. This is good news for recruiters: the slight labor market cooling that has occurred this year is already having an effect on costs.
State of the labor market
There's been many stories lately of a weakening labor market. Layoffs have caught the media's eye, prompting many to believe that a recession is on our doorstep. While the recessionary fears may be overblown, there's some truth to the softening labor market.
In February of this year, job openings fell to their lowest level since May 2021. Granted, they are still up over 40% from February 2020 levels, but this decreasing trend could point to further softening down the line. Recruiting competition is coming down from its stunning post-COVID levels.
Then, last week, a more mild jobs report pointed to a softening, but still strong, labor market. The labor market has been red-hot for far too long, so this slight cooling is very welcome. While there's still a marked imbalance in supply and demand, the gap is shrinking slightly, largely because of a jump in labor supply. This increase in workers and job seekers creates a more stable recruitment environment.
Cost-per-application
CPAs are on the decline in 2023, after a modest rebound in the recruitment cost at the end of 2022. Currently at $22.12, this cost measures how much money you have to spend to get a single application for a posted job. After peaking last year, this decrease shows that recruitment pressures are easing.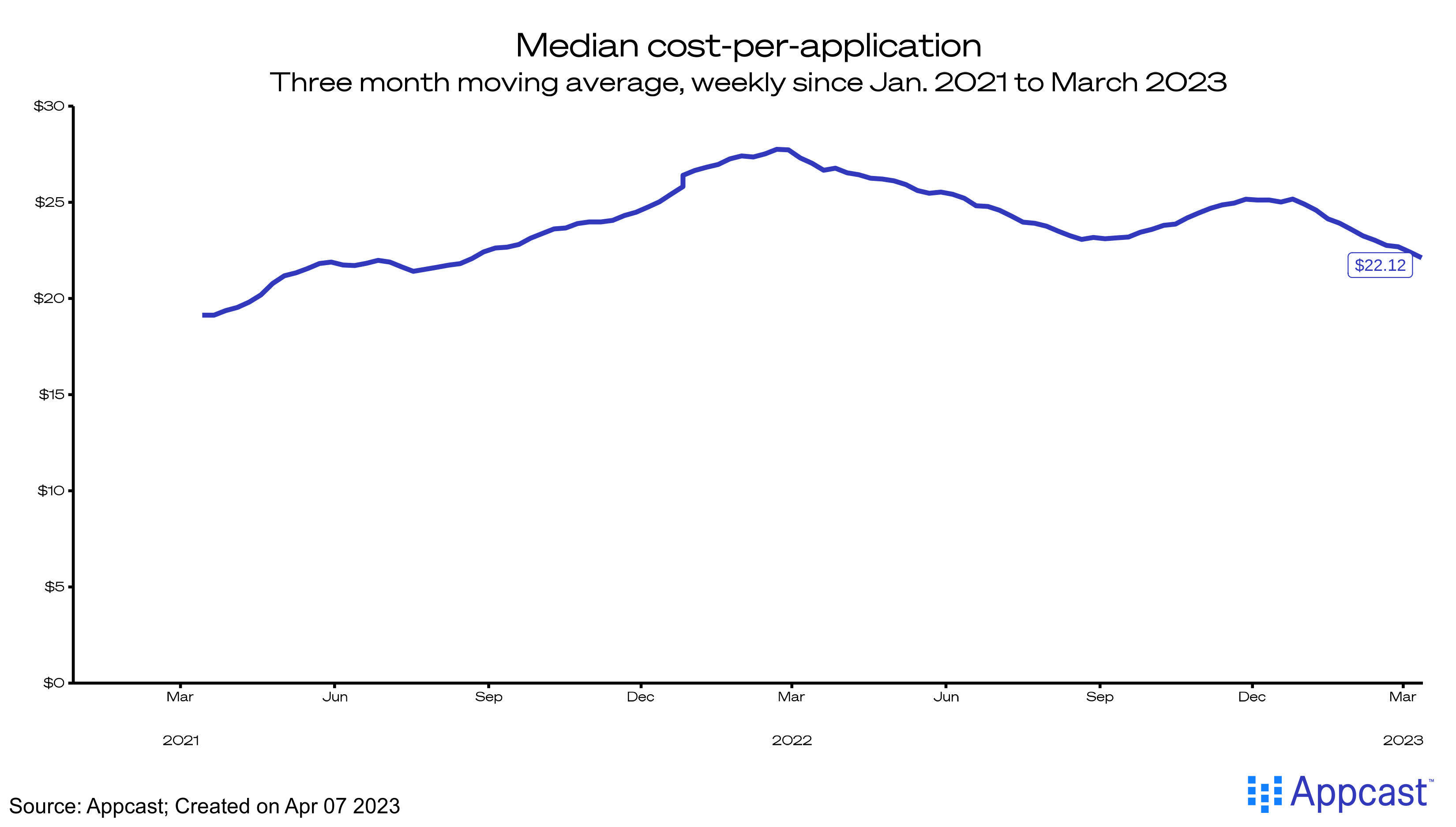 Cost-per-click
CPCs are falling even more dramatically than CPAs, signaling that job seekers are becoming less picky. Now, recruiters only have to pay $0.83 for every click on their posted job. This cost hovered around $1.00 for much of 2022, as recruitment pressures surged. Though CPCs have yet to return to pre-2020 norms (in 2018, for example, the average was just $0.75!), this declining trend is a good sign for recruiters, who have been dealing with inflated costs for far too long.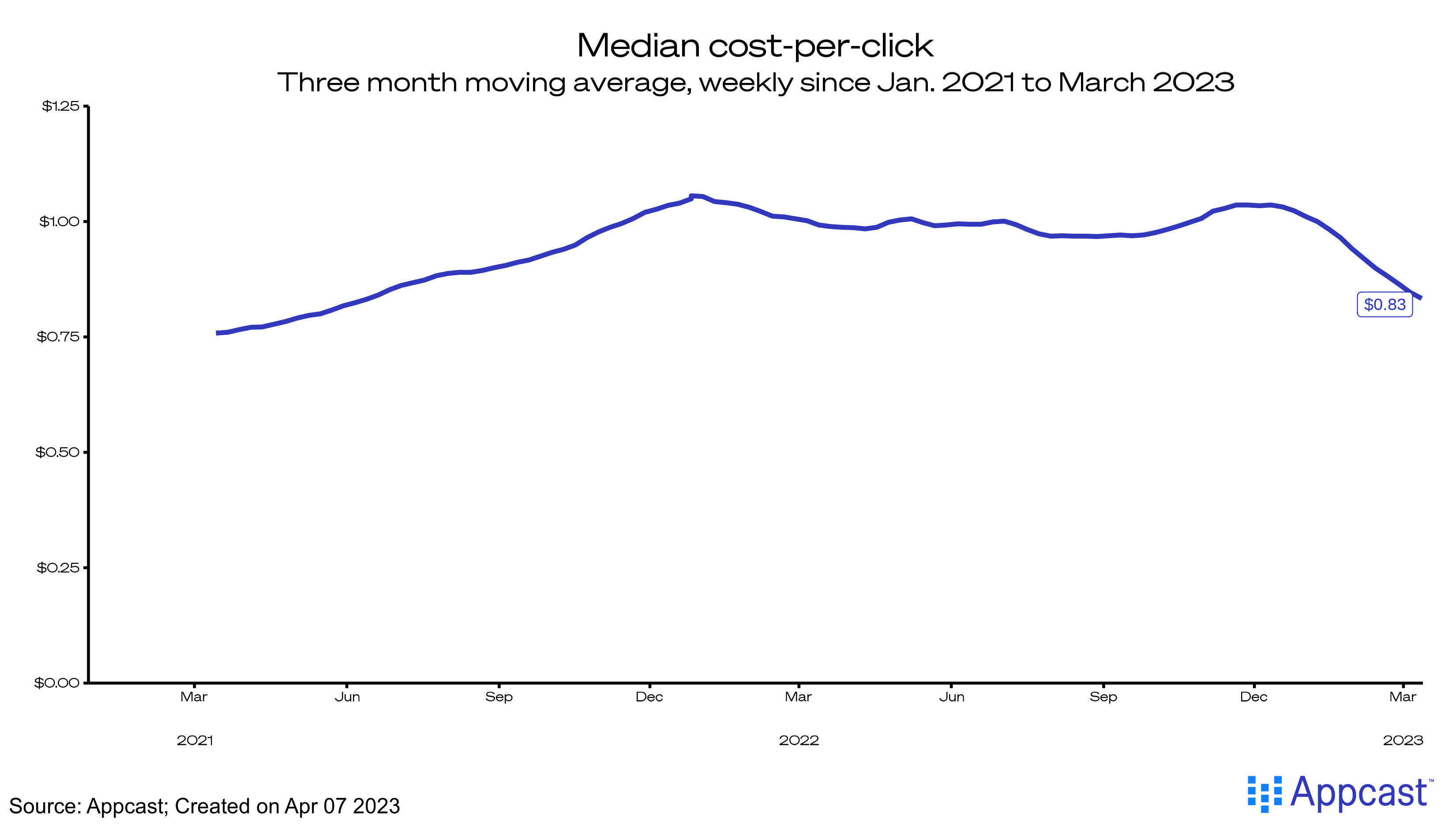 Apply rate
Unfortunately, while costs are falling, the apply rate is as well, now at 3.88%. Candidates are not submitting as many applications to posted jobs as they were throughout 2022, especially towards the end of the year. However, last year saw a similar decline in activity in the first quarter of the year: it may be that candidates are hesitant to make changes at the beginning of the year. If that is the case, then in future months we may see an increase in the apply rate, just as we did in 2022.
Additionally, employers do have some control over improving their apply rates. For example, shortening the application process and improving the mobile job ad experience can boost apply rates.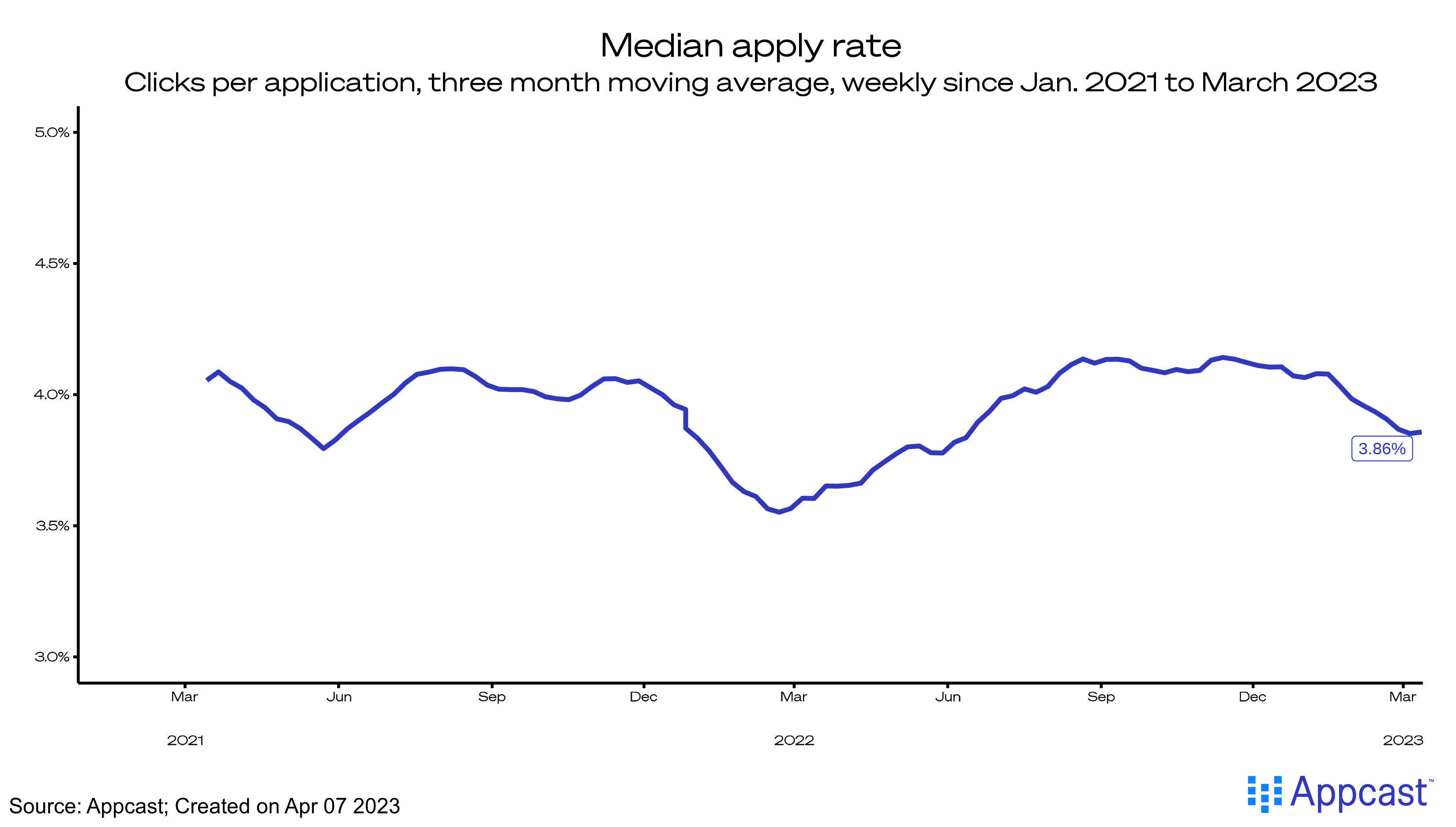 What does this mean for recruiters?
This softening of recruitment costs is a great sign for recruiters: competition remains heightened but is coming down. With the Fed's eye set on softening the labor market, supply and demand could eventually rebalance, which would bring these costs down even further. The environment has definitely shifted since 2020, but recruiters hoping for more "normal" times should be reassured by the recent decline in costs.