Each year, as a part of Universum's Talent Research, American college students get their say on which employers they'd be most interested in working for. The rankings are divided between different fields of study to account for the differing appeals of students pursuing different education backgrounds. Students are first asked to select which companies they would consider working for from a relevant list of employers pertaining to their field of study. And then from those selections, they are asked to choose up to five employers they view as their ideal employers. The most recent results were collected from September 2022 to March 2023 and show which employers American college students have set their eyes on as dream employers for 2023.
Business
American business students have once again voted Google as their top ideal employer. JPMorgan Chase and Apple trade positions with JPMorgan Chase jumping to 2nd place. Rounding out the top five, Goldman Sachs moves up one spot to 4th place and Spotify makes a jump into the top five moving up four positions to 5th place. Employers in banking and fintech performed well in this year's business rankings, with most employers in these sectors improving upon their results from last year. Some notable performances among employers in this industry grouping (ranking in parentheses) also include Morgan Stanley (12th), Bank of America (15th), Fidelity Investments (22nd), BlackRock (23rd), and Charles Schwab (35th). Employers in these sectors are widely associated with attributes related to competitive pay, which is likely a contributing factor to their success in 2023.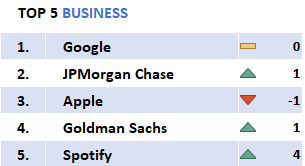 Engineering
Employers in the aerospace and defense industry have swept the top three positions for engineering students and a new number one is crowned. Lockheed Martin increased four ranks from last year to claim the position as the most attractive employer from SpaceX, which dropped to 2nd place. Boeing jumped both NASA (4th) and Tesla (5th) to secure 3rd place. Engineering students associate aerospace and defense employers not only with attractive attributes such as compensation, but also with other attractive aspects to this group, like innovation and their ability to integrate with new technologies. With all eyes on the Ukraine war and the calls to supply the defense of Ukraine, production has ramped up for weapons manufacturers like Lockheed Martin, Northrop Grumman (7th) and Raytheon Technologies (9th). This has likely led to an increased sense of interest in working for employers in this industry. Automotive employers also perform relatively strong among engineering students, along with aerospace employers, they're strongly associated with innovation. Some of the strongest performing automotive employers in the 2023 Engineering rankings include: Tesla (5th), General Motors (11th), Toyota (12th), Ford Motor Company (14th), and Mercedes-Benz Group (20th). Rivian (37th) is also an honorable mention as the top performing new entry into the 2023 Engineering rankings.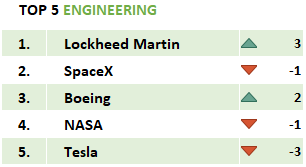 Computer Science
Despite losing ground on their hold of the percent of the ideal employer vote, big tech juggernauts Google, Apple and Microsoft keep their positions as the top 3 most attractive employers in the Computer Science ranking. Amazon also holds its position at 4th place and Netflix is the newcomer into top five among computer science students at 5th place. With a student group that has been forced to broaden their choice of employers of interest due to the big tech layoffs, other industries have emerged with employers that resonate well with tech students. As with in the engineering rankings, employers in aerospace and defense are finding success in the 2023 Computer Science rankings. SpaceX (9th) cracks the top ten and Lockheed Martin (19th), Boeing (35th), Northrop Grumman (40th), and Raytheon Technologies (42nd) all experienced significant increases in their 2023 ranks. Employers in computer hardware are also showing success with the likes of Nvidia (10th) and Intel (11th) improving their 2023 ranking positions.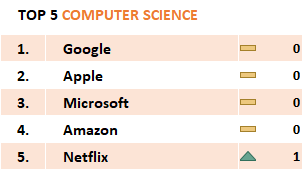 Conclusion
This year's U.S. Most Attractive Employer rankings show some shifts in the type of employers American college graduates are eyeing as their desired future employers. Employers operating in the financial sector showed strong results this year among business students. And those within the aerospace and defense industry made an impact primarily among engineering students but have also made strides in attracting tech students. With the USA currently in a period of high inflation, college students about to enter the labor market are weighing the importance of obtaining jobs that pay well and offer good job security. And they are using these as key indicators when evaluating the employers they want to work for the most.