American college graduates preparing to enter the workforce have shared their latest thoughts and opinions what they want when it comes to their future careers. Discover what is important to them and what economic trends may have made an impact on their decisions. 
The job attributes American students look for in their future careers 
Each year, Universum, a global employer branding company, surveys thousands of college students in the United States to discover which employers are most attractive and what they are looking for in their future careers. The survey collected responses from September 2022 to March 2023. Survey respondents came through partnerships with universities in the United States who distributed the online survey to their students, as well as through advertising towards American college students on social media.  
These results have identified the job attributes that entice American students the most when considering their future careers. Perhaps it's no surprise, but the most sought-after attributes of a job's attractiveness for American students are high future pay and job security. After major gains in 2022, sentiments around work-life balance and flexibility in their working schedules remain very strong for American students. The growing preference towards these two specific attributes showcase may suggest a bit of a shift in the mindset around the "hustle culture" in the American workforce. This latest wave of young workers is pausing to consider the aspects of a job that can positively affect their well-being, more so than those students immediately before them. Perhaps these preferences stem from the COVID-19 pandemic and its disruption of the typical work environment.

Inflation and its effect on salary expectations 
In 2022, American students' salary expectations increased by 13%, reaching an average of just under $77,000 annually. The most recent results for 2023 show an average salary expectation of $72,000 annually, which is a decrease of 6% from those previous expectations. These results share a similar trend line with the movement of inflation in the United States the past couple years. Salary expectations spiked in response to the sudden shock of rapidly increasing inflation rates but have begun to stabilize as inflation rates begin to subside. When inflation's nasty impacts are felt, people will naturally eye their salaries and wonder how much higher they would need to be to alleviate the pain.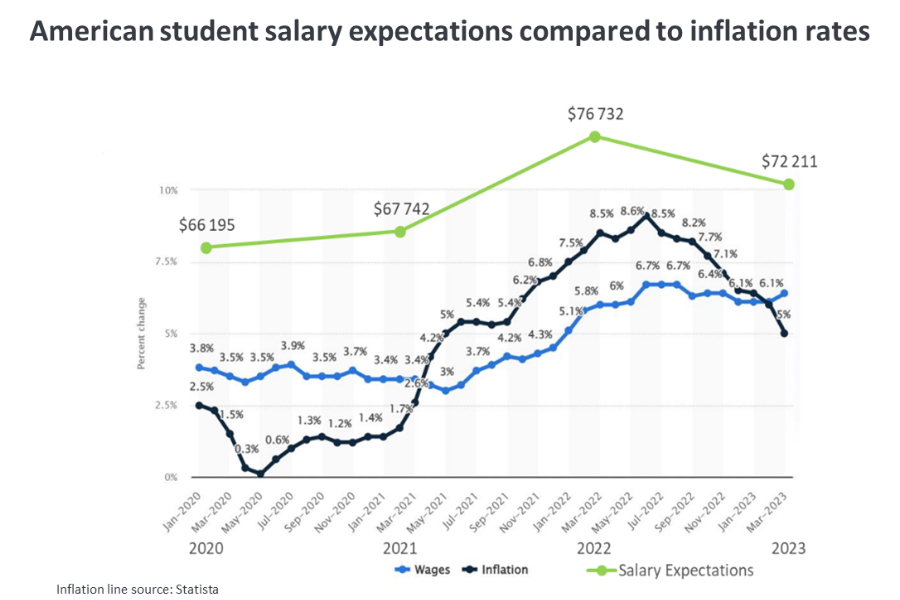 Job security becomes top of mind for American tech students 
The layoffs hitting the technology sector this past year, especially among the big tech players, have imprinted on the sentiments of tech graduates entering the job market. For a group that has historically prioritized salary above all else, 2023 marks a turning point with job security taking first position as the most attractive job attribute. A year of witnessing the mass layoffs hitting companies (especially potential employers) has planted a seed of doubt in the minds of tech students getting ready to enter the workforce. Gaining employment with their dream employer and having the sense of security that their job will still exist down the road is now what is on the top of their minds. Big players in the technology sphere such as Google, Apple, Netflix, Tesla, and Meta still rank among the top employers for American tech students in Universum's computer science rankings. However, their hold on the proportion of the vote is diminishing.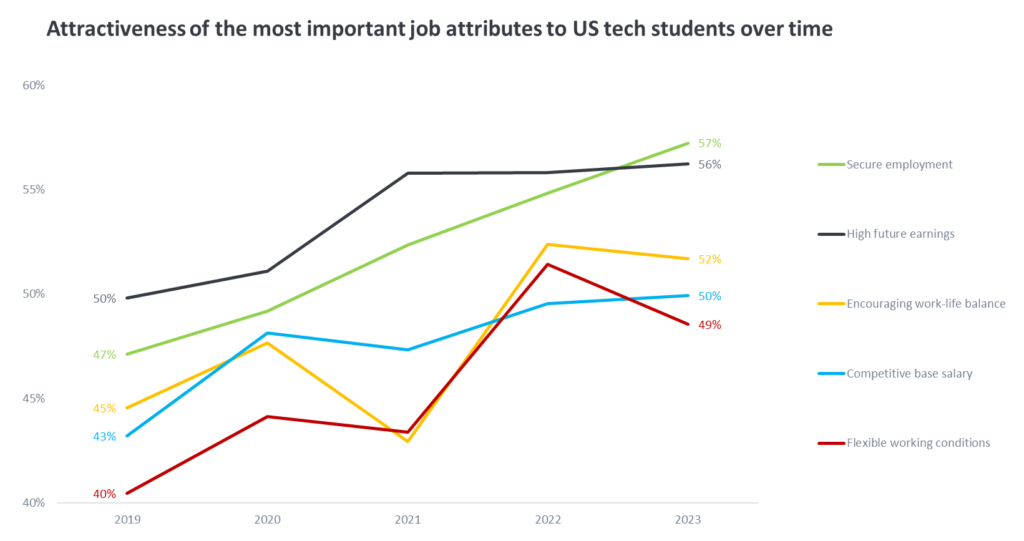 Concluding takeaways 
The current economic landscape and the labor market trends have shaped the opinions of college graduates preparing to enter the workforce. A period of high inflation and layoffs has strengthened the sentiments graduates feel around aspects such as competitive pay and job security. Additionally, the impact the pandemic had on the labor market continues to be felt. This generation of future employees are highlighting the importance of work-life balance and flexibility in their future careers. And employers who keep their finger on the pulse and find ways to adapt their employer offerings to reflect these changes in work preferences can find themselves successful in attracting the critical talent groups they wish to welcome into their organizations.